Frank vs. The Volcano: Part Trois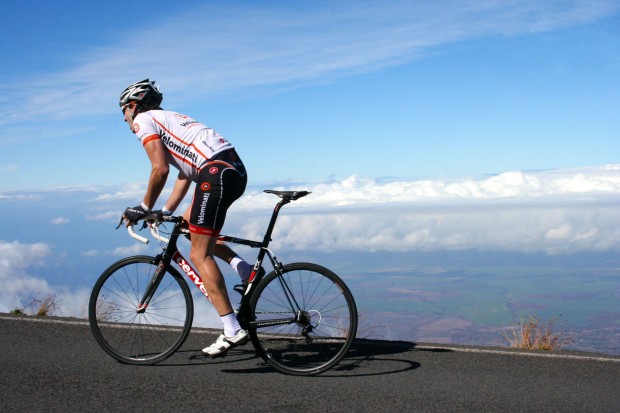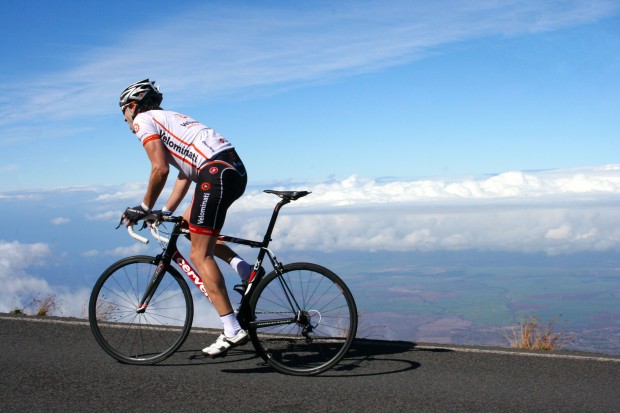 At some point, I reckon the idea may dawn on me that I'm not a climber. Eighty kilos and standing something just shy of two meters, I'm not clear on why climbing is what speaks to me most about Cycling; I'm certainly not built like a grimpeur. But there is no question about it; I love riding in the mountains. I only have to catch a sideways glimpse of a twisty ribbon of road from an airplane window or spot a lump on the horizon before my mind starts wandering towards what suffering may be hidden there.
And that may be the key to it, it's very easy to suffer on the climbs. Fighting the acceleration of gravity means that even by riding at a constant speed up a climb, we're effectively accelerating our mass along the gradient. In my case, that's a lot of mass, and in Haleaka's case, its a lot of gradient aggregated over a lot of distance.
My love affair with this particular mountain started the same way my first elementary school crush did; I approached and was summarily rejected. I returned half a year later with the dual goal of not cracking completely and setting a high (low?) water mark for future attempts. Eighteen months on, in reasonable condition and at a reasonable weight given the human urge during the cold winter months of eating foods consisting of meats, heavy sauces, and potatoes and serving them over meats, heavy sauces, and potatoes.
My training allowed me to ride at threshold for 3 and a half hours; a statistic which supports what makes Haleakala such a unique effort. No other ride affords the rider the opportunity to suffer so comprehensively and without respite. The last ten minutes of the effort were an anaerobic patchwork of pain and agony. The winds kicked up as I worked my way up the mountain, serving to amplify both my suffering and my fatigue. Wind is a cruel thing; you push hard into it in a vain effort to maintain your speed, and as you do it saps your strength and more quickly depletes The V-Stores tucked away in your body. To say nothing of your morale.
Riding Haleakala without cracking is one thing; to ride it with the intent of setting a personal best is another thing entirely. Even despite my feather-light Cafe Roubaix Haleakala wheelset, I came up short of my personal goal of 3:30, but thankfully the high winds on the day have strengthened my belief that with proper planning I can achieve that goal.
I will return. Vive la Vie Velominatus.
Video: (Also available in QuickTime)
If you can't take watching a 10 minute video, skip to about 7 minutes in for some good suffer footage.

Photos:
[dmalbum path="/velominati.com/content/Photo Galleries/[email protected]/Haleakala IIV/"/]
Strava: