La Vie Velominatus: Lean Properly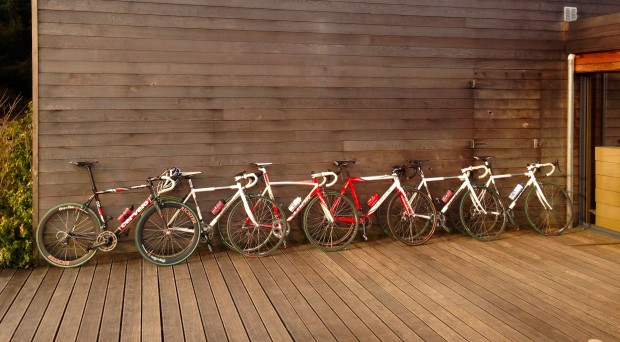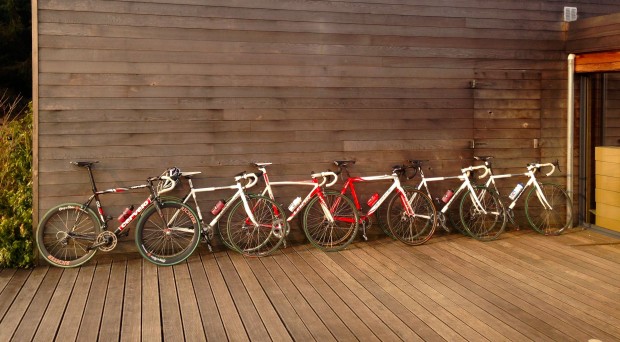 There are always at least two ways to accomplish any task: properly and improperly. Drinking beer from a glass, not the bottle; carrying a full umbrella instead of a miniature fold-up; stirring your gin martinis, not shaking them; wearing french cuffs with a suit, not button cuffs. The Velominatus, of course, is drawn towards doing things Properly, even when doing so comes at the expense of convenience.
While its true that doing something correctly may not always be the same as doing something the easy way, when it comes to the practice of leaning one's bicycle against a wall, doing so properly is is maddeningly easy. Bicycles have wheels and wheels are what enable the mode of forward locomotion that brings us such pleasure. The fine print indicates, however, that these wheels are not biased towards forward motion. On the contrary, wheels are quite happy to roll in any direction they please, provided gravity or an external force provide ample reason to do so. And, despite being more than sturdy enough to bound down a cobbled farm track at high speed, bicycles are rather delicate things not suited for rolling off unsupervised. Derailleur hangers are easily bent, paintwork is easily scratched, and bar tape and saddles easily scuffed when wheels start unexpectedly rolling and steeds fall over.
For this reason, it is critical that one practices safe leaning:
When leaning your loyal steed against a well, care must be taken to lean the bike by its saddle and by its inside hood. There are several reasons for this including the notion that neither the saddle (made of lightly padded leather) nor the hood (made of rubber) are as wont to slip as is the frame. Leaning it by the hood also ensures the front wheel is pointing parallel to the wall, not away from it, offering an additional bit of insurance against an errant roll-away. Should one be leaning their bicycle against something too low to make saddle contact, the rear wheel and hood makes for a viable alternate.
Lean the machine with the mechanicals facing out. This will help avoid inadvertently crushing the derailleur against the wall and bending the rear derailleur hanger. That said, among Keepers polled, only one (who, in order to protect Brett's identity, shall remain anonymous) made the case that keeping the mechs facing inward protects them from being brushed up against. Use your discretion here, but if leaning in, make sure ample space is left to prevent contact with the drivetrain and the wall.
When leaning a group of bikes against the wall, lean them all in the same direction such that the front wheel of the bike to the left overlaps with the back wheel of the bike to the right. This allows for a compact stacking of machines, prevents tangling of bars or other forms of damage-inducing fraternization between bikes, and allows any of the bikes to be removed from its place in the line without moving adjacent machines. While point two allows for the choice of facing in or out, when leaning groups of bikes against the wall, care will be taken to lean them all in the same direction and in this case facing mechanicals out will help prevent accidentally catching a wheel in a derailleur.
If leaning a bike against something smaller than a wall, the safest way to do so is to lean it only by the rear wheel, ensuring ample lean is given and that the orientation of the bicycle is chosen to minimize likelihood of the machine suddenly making a break for it. Leaning it against just the saddle is also an option should a stable leaning point be available. Under no circumstances is one to lean the bike by any part of the frame.
If your bicycle should begin to fall or to move in any way, you are to drop whatever you are  doing and use your own or a nearby companion's body to arrest the fall and prevent damage of any sort to the machine. You should be willing to sacrifice personal injury by way of means to this end. Be it your child or your bong, drop that thing and make haste to rescue your machine. Rule #4, fucktards.
Vive la Vie Velominatus.