2009 Cog Award: Ride of the Year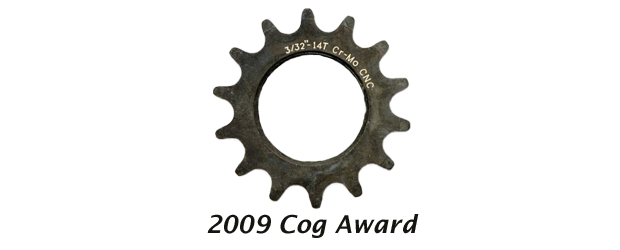 As the year comes to a close, I find myself thinking back to the most memorable moments of the 2009 professional racing season.  Overall, it was a pretty good season with some of my favorite races were won by my favorite riders; Liege was won in magnificent fashion by my boy Andy while a few weeks earlier, Tom Boonen had shown how the strongest rider makes the race in Roubaix by riding over the stones so fast that everyone else fell off.   Heinrich Haussler staged a legendary ride through all kinds of weather to win Stage 13 of the Tour.  And, while he didn't manage to win any stages, Robert Gesink showed incredible climbing skills over the steep slopes of the Vuelta – in particular on Stage 12 – and provided the most exciting racing of that particular Tour.  Of course, we shouldn't forget about Cadel Evans bringing on the surprise of the season by winning the World Championship road race.
All those great races aside, I think it's been a long time since we've had two brothers capable of winning nearly any race, being Pro at the same time, and racing together on the same team.  And, while the season is littered with examples of where the Schlecks worked together to allow one or the other to win a race, I have never seen a better example of brotherly teamwork than the stage to Bourg Saint Maurice.  The image of Frank on the front, pulling up the big passes with only his brother and the Yellow Jersey in tow is one I will not soon forget.  Thus, the 2009 Cog Award has to go to Frank Schleck for this ride on Stage 17 of the Tour de France.
As for my hopes of next year, I'd love to see more Schleck awesomeness (perhaps in the form of a yellow jersey), Boonen pulling off a fourth Roubaix, and more women's racing coverage.