2009 Broken Chain Award: Douche of the Year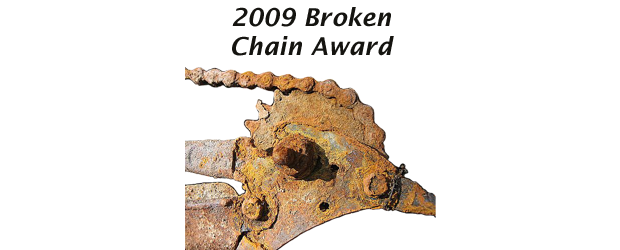 There are many strong contenders for this sought-after prize. First up, David Rebellin; he was nailed as a doper. Rebellin is a rider like Johan Museeuw, with a long list of impressive wins who finally ruins it all when he slips up and gets caught, all past results are in doubt. Young Schleck should have also won La Fléche Wallonne this year.  Stephan Schumacher, where to begin, I'm not sure he should be considered for 2009 as he must have won last year's award. Jesus he is the worst. In 2008, from out of nowhere beating David Millar in a TdF time trial, soloing off the front on mountain stages, caught twice and denies it. What a German tool. Jens Voigt should be asked to pistol whip him and put it on You Tube, or pay-per-view as I would pay quite a sum for that pleasure.
But the hands down winner this year has to be Danny-Boy Di Luca. Sure he is great one year and bad the next, what could that mean? Then in this year's Giro, the Centenary Edition, always a beautiful race filled with crazy climbs and awful transfers, he is moronic enough to piss all over this race by doping his way through it. He rides away from everyone on the climbs, time trials better than most specialists, "oh the Pink Jersey gives a rider special power." Really? Or he is all CERA'd up, denying clean riders stage victories. I have my doubts about Menchov but at least he beat Di Luca. Sure I bought into it, who would be so stupid to dope knowing you would be tested and they had already cracked the CERA code? Di Luca is evidently that stupid, and for that combination he will be mailed the rusty broken chain award.
A two year ban is not enough. We will have to watch that evil little bastard Riccardo Ricco this Spring. A rider who used to denigrate other professionals because they weren't strong enough. If I was a professional who had to race against Ricco this Spring I'd be tempted to ride him into a nice stone wall during Milan-San Remo.
Again, pay-per-view, Jens, luger.