Di Luca Confidential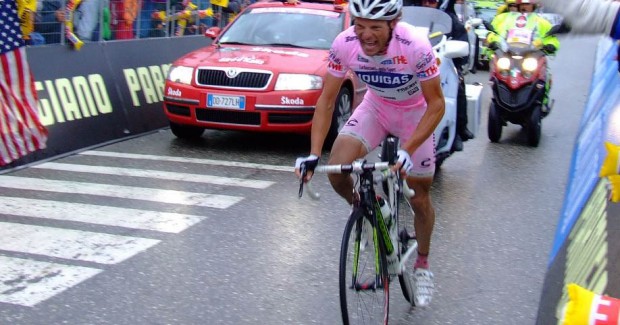 I've been a fan of Danilo Di Luca a long time, and to tell the truth, was much more suspect of Menchov's performance at the Giro than I was of Di Luca's; Menchov rode the last few days of the Giro like it was a Sunday spin, while Di Luca seemed to visibly tire with each attack.  It's always a shame when a rider I like tests positive.
I'm realistic enough not to be very surprised when riders fail a dope test.  But, to be honest, it's shocking to me that riders are still taking a substance they know can be tested for; as Di Luca himself has pointed out, riders have been falling like flies for positive CERA tests – how could anyone be so cavalier as to take those drugs where there are countless drugs and methods that can't be tested for?
I really enjoyed the Giro this year.  For me, whether or not the riders were doping doesn't retroactively take away from the spectacle four months ago; what bothers me is when a rider rides so well during the race that it spoils the race while you're watching it – like Contador's performance at the Tour this year.
Then there's the ubiquitous proclamation of innocence when the positive test comes back.  "I didn't do it!  I didn't take anything! I don't even know what EPO is!"  You have to hand it to Di Luca for creativity in reusing an 11 year old story:
I will return soon, but I'm beginning to think there's a plot.  I just can't find an explanation for the two positive results in the Giro d'Italia.
Ten years ago, in the height of the EPO Glory Days, Pantani was singled out and busted during the Giro.  Given the circumstances at the time, he was right to talk about a possible conspiracy; we know now that nearly every rider to swing a leg over a bike during that era was drinking jet fuel for breakfast and there is little reason to think he was doing anything different than anyone else.
I'm just spit-balling here, but maybe one explanation Di Luca could find for the two positive tests could be all that CERA he injected himself with?  I'm probably wrong.  That's probably not it.