The Dahon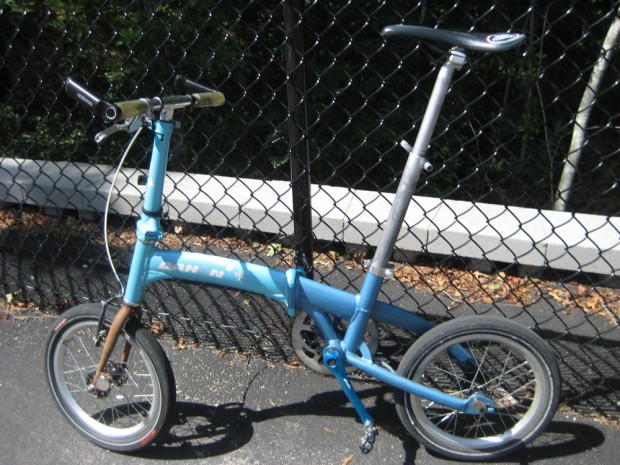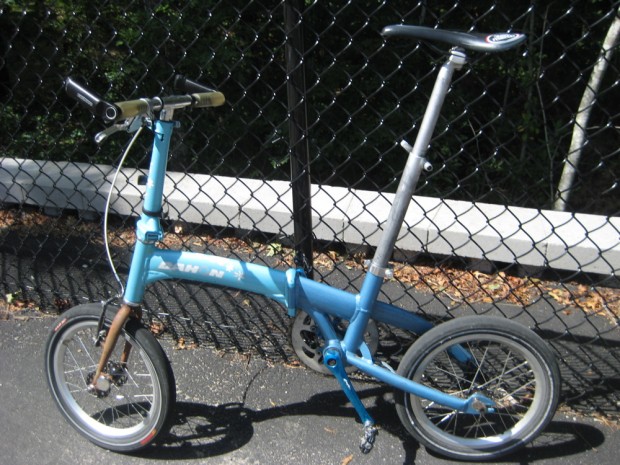 My friend Robbie is no slouch on a bike. He is a former Mass-Rhode Island district road race champion, he has been beaten by the likes of Steve Bauer and Davis Phinney. The man can always get on a bike and haul ass, he always will. He drove by two days ago and was hot to go for a ride. I looked in his car to see only cycling shoes, a helmet and a small lumpy bag, he removed the bag from the car and looking like an off-duty magician, pulled out what appeared to be the remnants of a bad kid's-bike-versus-snow-plow accident but was instead, a Dahon. A Folding Bike unlike any folding bike I've ever seen. This magic trick continued as he unfolded this little transformer into the most unlikely thing that would still fall under the definition of €bicycle." Everything was hinged and telescoped and yet it had a serious racing saddle on it. To my eye this was an inexpensive, carbon fiber free, heavy duty-commuting machine.
Robbie is an old school racer who rode a fixed gear track bike everywhere in the off-season to improve his spin. He rode his track bike through the Callahan Tunnel in Boston, a highly illegal feat I suspect never done before or after, for every reason.
But I digress.
Now he prefers to get across NYC on bike rather than wait for the next crowded subway car but his commute into NYC requires a trip on the Long Island Railway and having wrenched his back man-handling his regular bike around, by necessity, dove into the world of miniature bikes. Robbie is also a silversmith and unafraid to work some metal. This Dahon is now a fixie and to make it a smaller package it needed smaller 14€ wheels, which meant a larger chainring, which meant a modified chainstay, which meant a modified shorter front fork, one thing leads to another you understand.
We did go for a demonstration spin. His position on this bike is his regular road position in the drops. He easily whipped up to 23mph and claims he has hit 35mph on this contraption. With the tiny wheels he could draft me so close he could put his hand forward and touch me. Road riders are quite horrified to be unable to get rid of Robbie and his clown bike on a 40-mile ride. The bike can be checked at a coat check! He rides much more now because he always has this portable bike that is fun, fast and safe to ride.
This has changed my thinking. I always assumed the S and S coupling of a standard bike was the only serious way to get portable. I guess it's my 700C paradigm. It's nice to see it from another angle.
[dmalbum path="/velominati.com/content/Photo%20Galleries/[email protected]/Folding%20Bike%20Photos/"/]