The Golden Era: Downtube Shifters and Delta Brakes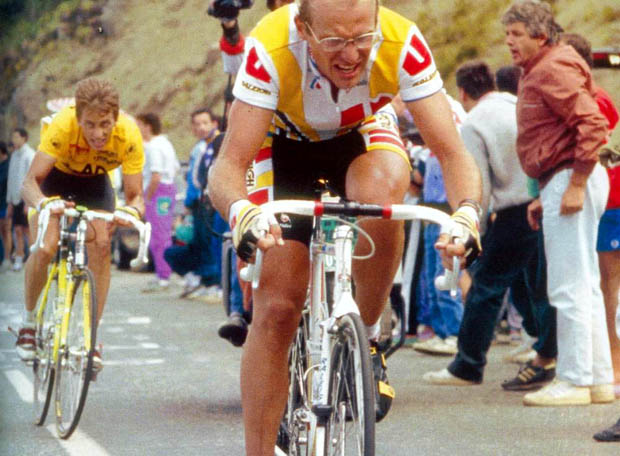 I miss downtube shifters.  I miss them in the same way I miss the days before the widespread use of race radios, when races were less choreographed and more unpredictable.  Racing on downtube shifters, a rider had to be seated and take one hand off the bars to shift.  Shifting had to be planned into race tactics.  These days, we can enter a hairpin bend in one gear and exit out of the saddle in another all while never moving our fingers off the brakes.  We can shift into any gear we want while mashing the pedals up a steep incline.  With downtube shifters, a rider had to plan for corners and enter the turns in the gear they planned to exit it in; they had to commit to the gear they were going to sprint in.  If they were in the wrong gear when an attack went, they had to stay (or get) seated, reach down and feather the derailleur into the proper gear – overshifting slightly and easing the chain back into the cog.  Similarly, a rider planning to attack had to choose a gear before launching themselves up the road.  A far cry from today's bar mounted shifters.  Besides, downtube shifters were beautiful: simple, elegant, and light.
Flipping through my old cycling books, it feels like the late eighties and early nineties were the golden age of component design.  Even up to the early eighties, components were rife with nuts and bolts and square edges.  But in the late eighties, it seems manufacturers spontaneously mastered aluminum forgery; Mavic, Shimano, and Campagnolo suddenly poured out elegant parts with sexy curves and polished finishes.  In my opinion, the best and most beautiful groupo ever made was the 1989 and 1990 editions of Campagnolo C-Record.
Those were the years just before Campy put out the first version of the Ergo-Power lever which, to my taste, was always too bulbous and large; I much preferred their distinctive standard brake levers and their loose-fitting white hoods.  The Campy crankset and derailleurs were stunning, complete with that unmistakable aluminum finish, polished to produce a luster that looked like it was something from a dream.  The rear hub, with its sweeping curve from the freehub body to the axle, was mesmerizing to watch as it gleamed in the sunlight.  But the piéce de résistance of the groupset was the delta brake, in its full triangular glory.  In today's weight-obsessed cycling culture, there is no possibility of such a brakeset ever being built again.
I already have plenty of bikes, but I think we all know that the correct number of bikes to own is n+1.  It is a dream of mine to hunt around and collect an entire '89-'90 C-Record groupo and build up a bike around it, right down to a set of hand-built (by me) three-cross wheels, downtube shifters, and delta brakes.