Ill Pro-ghetto: IT lives…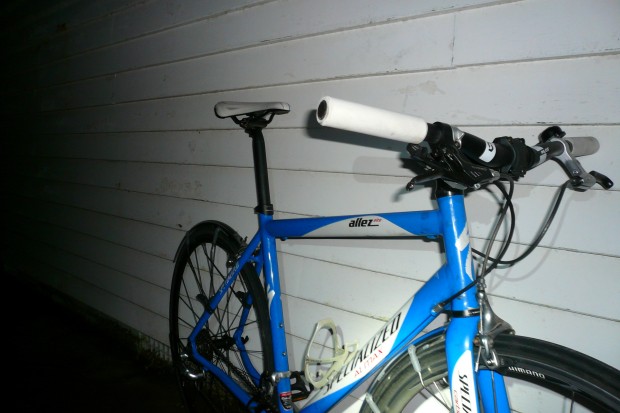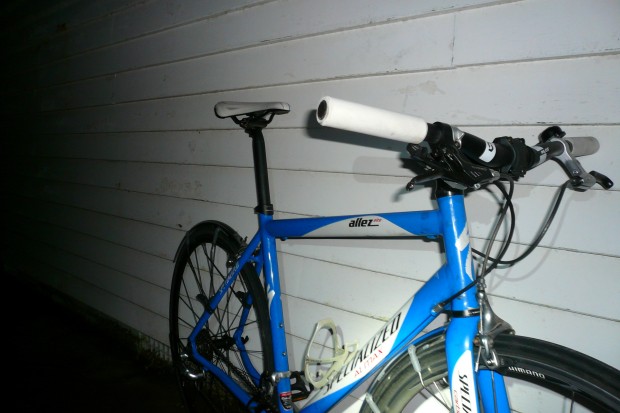 There's not too much you can buy with $8 these days. A coffee and cake. A tube. Maybe a trashy tabloid magazine (certainly not the likes of Rouleur, Bike or Spoke…) How about a complete bike? For eight bucks? Are you kidding me?
It can be done, and yes, I've done it. It helps no end that I have access to a bike shop, with a workshop, which is festooned with discarded parts (my own and other donors) overflowing from buckets, stuffed onto shelves, laying under benches and crammed into boxes in every dark recess and corner. Most of the bits are old, worn and greasy. Wheels are buckled, missing spokes and have braking surfaces grooved from years of brake pads mixing with road grime to form a nasty grinding paste that could be used for industrial applications. There is an odd frame here or there, but usually they have been stripped bare and are just waiting for Nathan's Hacksaw of Death to read their final rites, rendering them scrap metal and helping to boost the shop beer fund.
But, occasionally, some make it out alive.
I'd been commuting on an old Peugeot hybrid that I had deemed too flogged-out for its owner to ride, and who had wondered about getting the drivetrain replaced. She left with a shiny new steed, and the Pug was banished to the back of the workshop, hanging forlornly with the other sad, rejected bikes, some already being picked of their organs and looking like shadows of their former selves. Weeks later, I dragged the old Pug of its hook and risked life and limb by riding it the 5km between home and work a couple of times a week. It felt like the fork was about to seperate from the frame, and the imminent slipping of the chain over cogs was always in the back of my mind, putting my nether regions at risk of top-tube trauma. But her time had come, and when Nathan decided it was time to clean out the workshop, I spotted the perfect replacement.
Why hadn't I seen this before?
Well, maybe because it had lain under piles of broken frames, forgotten. And now, here it was, about to be clamped into the vise and cut into small bits of alloy and mixed in with the empty Coke cans and broken rims. It was that close. I asked of its condition, and why, if there were no cracks, was it going to scrap? It had become an inconvenience, just taking up more space and not having any kind of future to be used in its intended state. I saw potential in it though, and the chance to give it a new life as my commuter/rain bike.
There was a matching carbon fork, Nath told me. Cool, well while you're sorting through the thousands of bits and pieces, can you look for a headset, seat-clamp and derailleur hanger? Within minutes these vital organs were procured, and Ill Pro-Ghetto was underway.
And now, it has life… and I love it. (Is 'it' too harsh a term? Should I refer to 'it' as 'she'? No, I think of it as a kind of Frankenstein bike, and 'it' is simply IT!)
I love the fact that its parts are all mismatched. A Shimano R560 front wheel with an Alex shitter rear. A Tiagra RH crank (with single 39t ring) sits opposite an old 105 lefty. At least they are the same length. An XT Rapidfire shifter moving a SRAM chain across 9 cassette cogs all from different parents, mixed and matched to form an 11-26 block. The riser bars, saddle and grips all came from Josh's 29er, and cost me a beer. So where did the eight bucks come into the equation? A couple of brake inners and a gear inner… I even patched some old tubes from the pile regularly pilfered by Uni students for making some weird project or holding their pants halfway around their asses.
And you know what? IT has made me want to ride to work again, to ride more, on it and also my other bikes.IT has given me a new lease on life. I guess it's just returning the favour.
[dmalbum path="/velominati.com/content/Photo Galleries/[email protected]/Pro-ghetto/"/]