In Memoriam: Olympic Tandem Match Sprint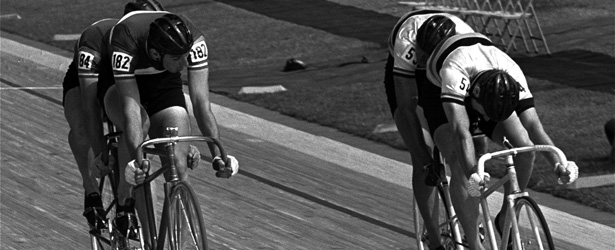 The Olympic track racing fires off tomorrow and it's time to remember an event discarded to the bin of noble sports.
The Olympic roster of events is constantly evolving and devolving which is why we are now watching synchronized diving as an Olympic sport. What a world, what a world. Maybe it's a sign of me getting too old but it makes me sick. Who does this sport? Who says let's go down to the public pool and work on our synchronized diving? No one, that's who. Did the IOC get bribed by Big Diving? Diving is barely watchable, adding another diver who does the exact same thing adds little. Yes, I'm biased, yes, I don't understand it. Send your hate mail to Condoleezza Rice, c/o Stanford University, I don't want it.
Years ago Olympic road cycling cancelled the 100km four-man team time trial and I'm still bitter about that! The four-man TT was a killer event. The time was on the third rider to cross the finish line. A four person team could barely afford to lose one rider. One flat, a bonk, do we wait, do we go? This had to be decided on the road by the team while riding on the razor's edge of anaerobic doom.
Olympic track lost the tandem match sprint. Track is also losing the individual pursuit events this year for reasons I can't imagine. Thank you, UCI. The tandem sprint was no flash in the pan event, introduced into the Olympics in 1908. It was finally terminated after the 1972 games. God damn it, what's not to love? We keep thinking Cav is the fastest cyclist but track sprinters are faster. Imagine two super fast riders on one bike racing another matched pair. One pair of legs does the driving, one pair just to stoke. The stoker could also be the second pair of eyes for the driver but really his mission was to plant his face against the small of the driver's back and spin that bike up to over 85 kph! The tactics were the same as the regular match sprint. There were track stands, jumps and bumps: it was just faster and more awesome.
I don't know the reasoning behind the decision in 1972 but I'm here to say things were a little weird back then, many bad decisions went down in the early '70s. The Bee Gees made it to number sixteen in the American music charts and they were not terminated with extreme prejudice right then, before it was too late.
Here is some footage of a past World Championship just to demonstrate the awesome.
[youtube]http://www.youtube.com/watch?v=hS3BLySqep8&feature=player_embedded[/youtube]