Lo Sceriffo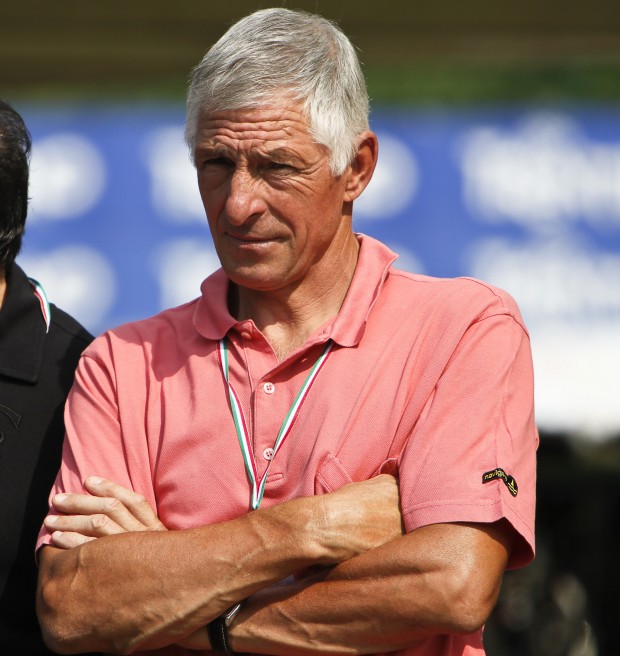 In May, Velominati wake up too early, brew espresso and open laptop computers to watch small streaming videos of the Giro d'Italia.  We notice how different the Giro is from the Tour de France. It's more colorful, more vibrant, more full of life. If Hinault somehow represents the TdF, Moser would represent the Giro. Lo Sceriffo, The Sheriff, Francesco Moser––it's hard to get a grip on these older riders as we just have still photos and some short bits of film, if we are lucky, to take their measure. In the Paris-Roubaix film, A Sunday in Hell, late in the race, the winning break has gone away, it is Moser who appears out of the dust. He is in his Italian Champion jersey, hunkered low over his bike, flying down the edge of the road to catch Merckx and Roger De Vlaeminck. He is cooler than Eddy.
Moser was one of the few people who dared take on the Hour Record. He beat Merckx's 1972 record but it was on a much more aerodynamic bike (and some extra red blood cells, a new and then legal practice ). His stroke defined magnificent and his position on the bike is something one could only aspire to: in the drops, upper torso low and flat, he is all legs and forward motion.
To call him the Fabian Cancellara of his day would be more accurate when Fabian wins yet another Paris-Roubaix, a few more classics, the World Championship road race, a Grand Tour and continues to kick ass for another five years. As racers they share many similarities; they are big powerful men, tough Classic racers, excellent time trialists, both Passistas with a capital P.
Obviously I'm a big fan of his. A big powerful Italian who excelled on both cold cobbles of Northern Europe and stage racing in Italy, a World Champion and a Giro winner and he still is fit and whips his old rivals at cycling events. What's not to love?
"Francesco Moser, who won, was at his pinnacle. He was the most macho macho-man you ever met in your life" -John Eustice, who was on the very first American team to ride in the Giro, 1984
This quote thrills me. Moser seems not to have been the pugnacious prick that Hinault was. I suspect he was just as intimidating but a look was all that was required. To a skinny young American pro like John Eustice, finally riding in the european pro ranks and rubbing shoulders with Francesco in Moser's home Tour, it must have been extremely humbling. When "lo sceriffo" says the peloton rides piano, everyone rides piano. Moser probably made him shave off that sweet 'stash too.