Reverence: Lobster Claw Gloves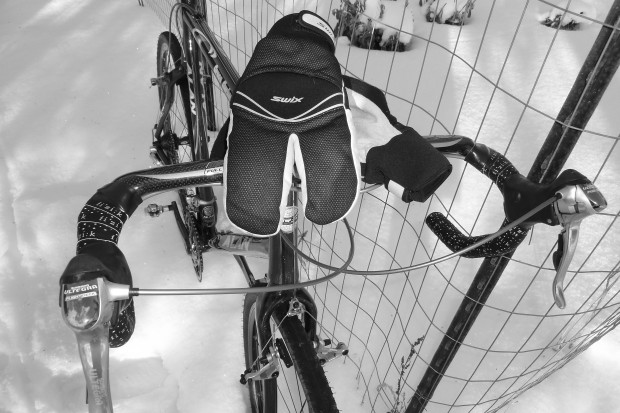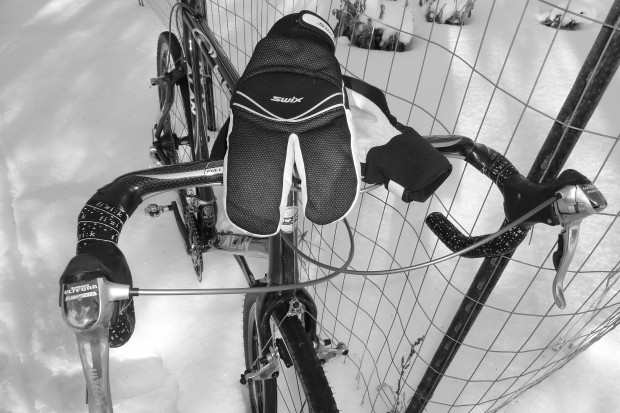 Our Antipodean readers may want to skip this article and come back to it in June as the Austral winter begins.  Anybody reading in the northeastern states may want to get down to their closest bike or ski shop stat.  But regardless of where you are on the globe, if you ride in, let's say, sub-freezing temps the lobster claw glove/mitt is the way to go.  The origins of the lobster claw mitt are not well documented.  I've heard they were originally developed for cycling by Pearl Izumi and then adopted by the nordic skiing crowd.  But I was first introduced to them over ten years ago while working as a ski-tech and salesperson in a ski shop.
It's no secret that mittens keep one's fingers warmer than gloves do.  Ten thousand years of circumpolar field testing provides all the data one could ever need to prove that theory.  Cycling in mittens, however toasty they may be, is a bit cumbersome and leaves one fumbling about the levers.  Gloves, on the other hand, provide the dexterity required but since they insulate each finger separately they don't allow for finger-on-finger conduction (that just sounds hot doesn't it?) that keeps hands warm.
This is why our friends at companies like Swix, Toko, and Pearl Izumi developed the lobster claw hybrid.  Often times, take hybrid bikes for instance, with compromises the consumer ends up with something that works but does neither function the product is designed to do very well.  Not so with the lobster claw mitt.  Or is it a glove?  They serve both the dexterity function and warmth function very well.  The split-finger mitten pairs the pinky/ring finger and middle/pointer finger to provide finger-on-finger conduction that gloves lack.  This also allows the rider the dexterity to actuate shifting and braking levers with the middle/pointer combo while still gripping the bars with the pinky/ring combo on slippery road surfaces.
While I'm not tied to any one brand, I know lobster claw mitts come in various weights depending on your insulation needs.  Mine have ample insulation over the tops of my hands but have no insulation in the palms.  This provides me with a solid grip and feeling for the bars but may not provide enough warmth for some riders.  They also breath extremely well.  These are designed for riding in cold and dry conditions.  Yes, they still provide warmth in wet conditions but they are not waterproof.
So if you're looking for a system to keep your hands warm whilst riding in cold temps, don't overlook a good pair of lobster claws.  I originally purchased mine for nordic skiing but find they are my go-to mitts for winter cycling.  I've ridden them in temps down into the teens F and they do not disappoint.