V Ride of the Year: Strada Bianca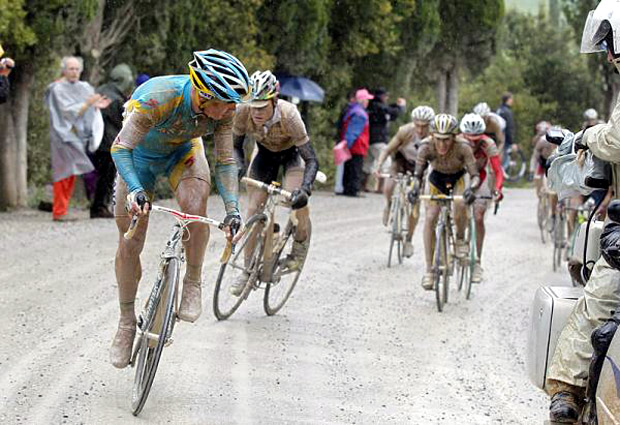 We are not hard. We may espouse the values of the mythical hardman, but we are merely pretenders to the throne of the Kings of V. While it is ok to talk about hardness, suffering and toil on the bike, when it really comes down to it we are mere mortals who would rather be under a rug with a warm cuppa than grinding the 53 in a subarctic-driven blizzard. Admit it. Comfort trumps suffering every time. Well, I'm speaking for myself here, and as I'm about to ride on a still, warm and sunny day, I know that it's way too easy to throw on the minimum of clothing to head out than undergoing a half hour ritual of head-to-toe insulating that most of you have to endure at this time of year.
But watching others suffer, that's another story. Hoping every Northern Spring that it will bucket down rain, and the mercury plummet to single figures gives us some sort of perverse pleasure, knowing that only the toughest of men will rise to the occasion and forge their names into history, into our consciousness and memory banks as the heroes of the sport. Victory through adversity allows us to live vicariously through their achievments on a stage that we will never grace, yet one we hold dearly to our hearts and minds.
These are the rides that forge legends. And there were plenty in 2010 that we will remember for a long time.
It was probably months ago now when the Keepers named our picks for the V Ride of the Year, and the emails bouncing across the ether threw up a list that was exceptionally hard to whittle down to one rider or one race that truly stood alone as the toughest-fought of them all. There was Motorcus' incredible double at Flanders and Roubaix, where he made the cream of the Spring crop look second rate. I had a particular soft spot for Kuurne-Bruxelles-Kuurne, when only 26 of the hardest men finished a race in conditions that you would be reluctant to even leave the house to drive a car. The sight of the last survivors, and they did have to draw on survival techniques in that one, straggling across the finish line eerily illuminated by the headlights of the vehicles following in the gloom, the faces blank, eyes hollow, skin shining wet and muscles near hypothermic, made me warm inside.  Because it was them and not me. They were heroes, and heroes only become heroes because they achieve what we can't, or won't.
But on consensus, one particular ride always appeared in the lists profered by the Keepers. Maybe it was the stunning images it provided. Possibly the fact that the Rainbow Jersey was prominent in the selection, or that a formerly tarnished combatant was continuing his redemption in our eyes, or that a cyclocrossing climber was relishing both of those elements on what was supposed to be a road race stage. Was it the unselfish ride by the Maglia Rosa, losing time, fighting hard to get his team leader to the finish while sacrificing his own ambitions? All of these things played their part in an epic race in every sense of the word.
I think it was simply the mud. Yep, it was the beautiful white dirt, the Strada Bianca, turned into a nasty grinding paste by torrential rain, that may have washed out of the riders' kit and off their bikes, but will stay ingrained on our psyches (and no doubt theirs) for years to come.
Congratulations to each and every rider that survived Stage 7 of the 2010 Giro d'Italia. You are all bonafide hardmen, and all thoroughly deserving of a V-Cog Five and Dime award for services to the pantheon of great moments in cycling. We salute you.