Anti-V Moment of the Year: Chaingate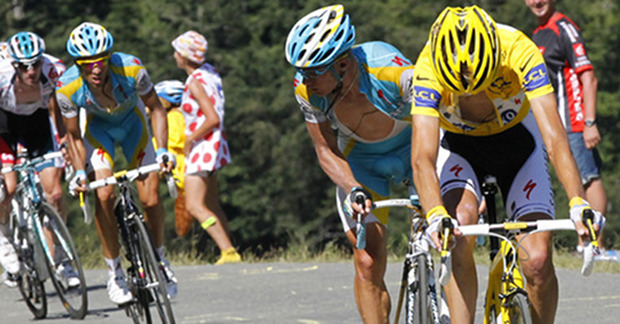 It is a telling sign of the state of our sport that picking the Anit-V moment of the year was a more difficult task than picking the V Ride of the Year. Best ride of the year? Clean, unanimous vote among The Keepers on that one. Low point of the year? Dissention in the ranks as email traffic filled our inboxes to overflowing.
Veino in Liege. Piti continuing to rack up wins even as his suspension was imminent. The defiance of the Spanish Cycling Federation. The UCI's thinly veiled "fight" against doping, as long as I'm naming governing bodies. The Landis Allegations. The Cavendish/Haussler crash in the Tour de Suisse. The neutralization of Stage 2 of the Tour. The threat of the rider protest prior Stage 3. FedEx's expulsion for irregular sprinting. Bjarne Riis' constant complaining about the mass exodus from his team. The Motorcus Myth. Alberto Contador's positive test for Clenbuterol.
Which brings me to my nomination of the lowest moment of the season: Chaingate. The incident was more than a moment of poor sportsmanship, but marked a new phase in Cycling's steady departure from the great traditions of our sport. Not to mention that the Grimplette's chain needs a stern talking to. There is no higher honor for a chain than to get jammed onto the big ring while carrying the Maillot Jaune away from the bunch on its way up some fabled climb in the Tour de France. The fact that it cocked it up is inexcusable. Into the trash heap with you, Chain. But I digress.
There was a time when the sport was headed by great personalities who recognized they were but a chapter of a great epic that spanned generations. They understood that one of the things that distinguish cycling from other sports is the rich history and time-honored traditions; Cycling's icons – the Great Races, the Cobbles, the Mountains, the Jerseys – are made up of much more than any one athlete and are to be respected as such. Their actions are the mortar between the stones of our sport and form a foundation for later generations. Coppi, Bobet, Merckx, de Vlaeminck, Zoetemelk, Hinault, Fignon – these were riders with personality and strength of character, who understood their place.
Like small fluffy dogs chasing a passing car, Chaingate marked the moment when the top riders of our sport forgot their place in the misguided notion that the time gained at the finish is the stick by which we measure their greatness when in fact it is how they get there: with no one else in the picture.