Guest Article: All the Bikes in my Life Have Come from my Father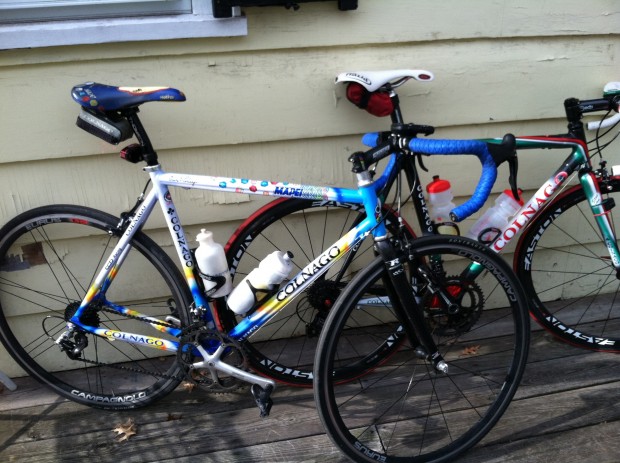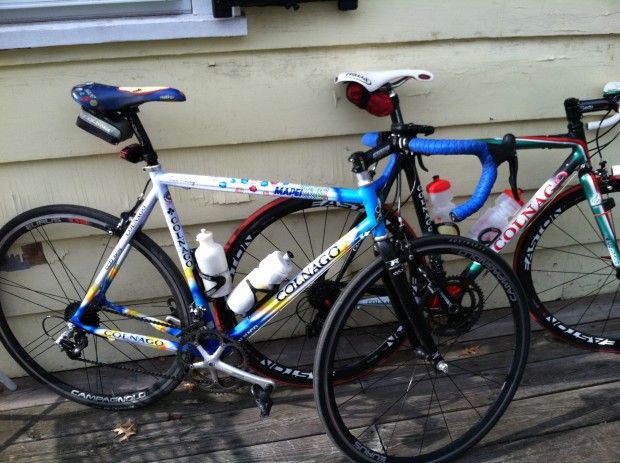 Lucky is the cyclist who has a parent cyclist. Early mentoring about the pain cave, guidance gluing on tires, these are worthwhile lessons a parent could lecture a child on. If one has to listen to a parental lecture, better it be about Eddy Merckx and how you are no Eddy Merckx than balancing your checking account. For the rest of us, our parents maybe helped in the purchase of our first bike to get us out of the house, then we were on our own N+1 quest, making our mistakes as we went along. @davidbeers is lucky, his father is a cyclist. 
Yours in Cycling, Gianni
The first one was on Christmas Day, 1960. I got on the bike in the driveway and he gave me a push, no training wheels. I just rode down the street, until it was time to turn around. Since I couldn't turn, I fell off. After that I never fell off until I was 13.
My Dad had a really cool racing bike called a Lentin Clubman. It had dropped bars with no bar tape, and he rode it with the leather saddle perched way up, on account of his long legs. One day I tried to ride it, without asking. I was flying down Old Chester Road before I realized that my hands were too small to reach the brake levers. My Dad appeared out of nowhere to stop me at the crest of the big hill. Smashed right into his chest; It must have hurt but he didn't let on.
I had a 3-speed English bike called a Dunelt. It was a Raleigh knock-off with upright bars. I wanted a racing bike, a 10-speed. My Dad helped me get a real compromise: dropped bars and a derailleur kit to make it into a 9-speed. I put a lot of miles on that bike. The second time I fell off a bike was on the Dunelt, when I ran into a parked car. My thighs smacked the trunk so hard I couldn't walk for a week.
My Dad taught me to tie a bow tie without a mirror. He used to ride his Clubman to work in downtown Washington; he had a rack on the back and he would lash his briefcase to it. On our way to the bus stop, we would see him cruise by, bow tie undone and flapping. I asked him once, if he tied it at the office. No, he explained with great amusement, the goal is this: First, to ride into the tunnel under Scott Circle, no hands, with the tie flapping, and then to emerge from the tunnel into the sunshine of K Street, no hands, straightening it.
Like all boys we wanted new, cool bikes, but we never got the one in the shop window. My Dad was always finding another route. For him the cleverness of the find was as important as the components were to me. It's the same with furniture, and sportcoats, and houses. He sought out the advice of a dope dealer who also was my first riding mentor. That led to the first great bike I rode. The Mercian: Columbus tubing, Cinelli bars, Shimano drivetrain because Campy was out of the question.
I won some races on the Mercian, and placed well enough in some others to be named "Best New Member" of the National Capital Velo Club, sponsored by Georgetown Cycle Sport. They spelled my name wrong on the award I got. My Dad framed it, and "Dave Banks" has a place on the basement wall, next to my brother's Ambassador's Cup running trophy.
One thing we had in common was our understanding of the pain of losing bikes to thieves. The Mercian, The Clubman, The Legnano, a pair of  Supercourses, all disappeared and the sorrow was joined by bitterness. At least with the Mercian I had put enough into it by then, a lot of Campy, that an insurance claim was worthwhile. It paid thirty cents on the dollar, so I bought a Bianchi with much lesser parts and started over.
For my thirtieth birthday my Dad got his dealer to find me a used Colnago frame. A work of art by itself, I hung it on the wall for two years and just looked at it. Then I got a big bonus from a house I built, and I blew it all on a Campy Record Grouppo. I was going to keep the Bianchi for riding in the rain, but then I had a better idea. I gave it to my Dad; fanciest bike he ever rode.
For my fiftieth birthday my Dad got my long-time riding partner Clemson and my wife to get me another used Colnago, all dressed up with Campy Record. Now I have two, kind of like Ferraris: a very fast new one, and a sweet vintage one, both turn heads.