Let the Season Begin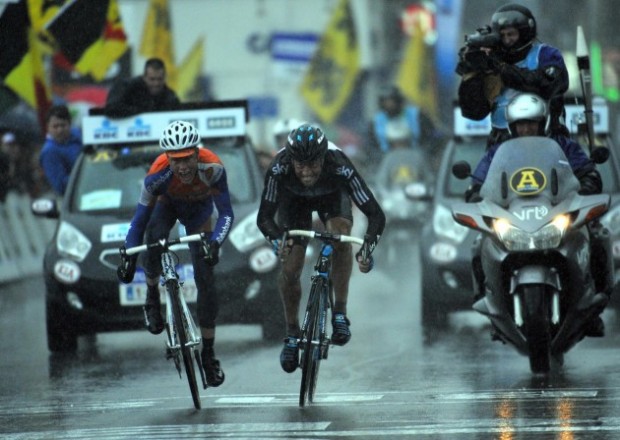 Omloop het Nieuwsblad is fast approaching on March 1st, Strade Bianche goes off the next weekend; finally, ladies and gentlemen, we have a season. For me the racing season really has to start in cold, wet Europe. I like the Tour Down Under just fine, I watch it, but it's too early, too sunny and too hot to signify the start of the racing season. The races in the desert, though I'm sure they are windy and tough, hold no interest for me. Camels and embrocation do not compute. The endless speculation about Faboo's lack of perfect February form only means every reporter is bored and has no real stories to write.
The most interesting thing about the racing in the Middle East was seeing that Tom Boonen is whippet thin and ready to bring the pain in 2014. Knowing that Boonen is back lets me sleep better at night. He is lining up for Omloop, his team is ready to rumble on the Taaienberg, all is right with the cycling world. Please let it rain, but don't let Tommeke get hurt.
I need to see some racers with every bit of wet weather gear on, riding into a hell storm off the North Sea. Cold and wet and in Belgium; that is the way we start the season.
The other thing that is great with the cycling world is the Strade Bianche the following week. A gravel race for the professionals? The race is new, not even ten editions have been raced, but it seems so right. San Gimignano to Siena, rolling up and down across the Tuscan countryside, many secteurs of white gravel, this is a stroke of Italian genius.
Another reason to be excited is Peter Sagan. The wheelie poppin' curb jumpin' bad boy comes into this season a year wiser. He has watched both Fabs and Tommeke ride away from him in different editions of the Ronde but they aren't getting any younger and Sagan is only getting better. The younger generation of riders would like to topple the reigning twin kings of the Spring Classics but Boonen and Cancellara are still there because they are the two best Spring Classic riders of their generation. They aren't going to go without a battle.
If no one breaks bones in the feed zones or gets infected elbows, this all portends a beautiful spring.