Raining in My Heart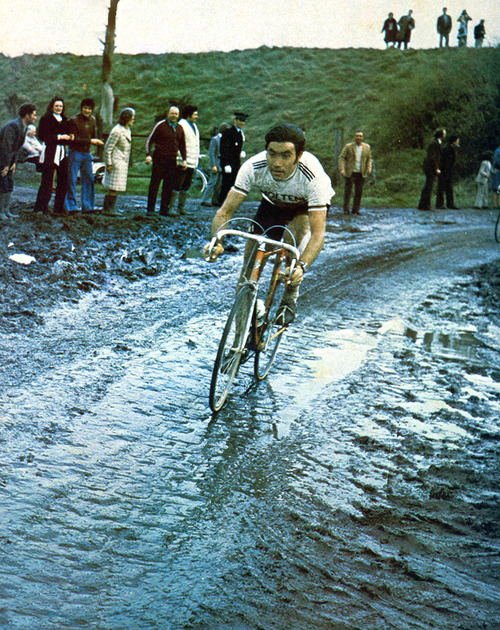 Not one to subscribe to the slew of text speak or acronyms that permeate the modern vernacular (well, not too much, I guess YJA is one used fairly regularly), I am harbouring a severe case of FOMO right now. And the catalyst for this? The lack of a KT14. Shit, I did it again. WTF?
As Gianni wound up the excitement and anticipation for the real start of the real races, ie those on the cobbles and bergs of Belgium, my heart is heavy with emotions and my head is filled with bittersweet thoughts about the imminence of the Spring season, and the Classics in particular. This is my absolute favourite time of the racing year, and this one promises to be one of the best of recent times. Just like the past two seasons, the anticipation of a Tommeke/Faboo showdown is present, but maybe this time both will stay wreck-free and we will witness the winners of the past two Flanders/Roubaix doubles going at it at their peaks. And surely it will rain this year. It has to rain this year…
While standing around in the cold rain at the side of a shitty farm track isn't the epitome of a good time for the general population, I place it at the top of my yearly holiday wishlist. The past two Aprils have been nirvana for me, and not being there this year leaves me with a feeling of having a part of my very being ripped out. Like my soul has been stolen away, an appendage removed, a limb hacked off. The complete experience of being there in those weeks when the whole of the cycling world is centred around Flanders and northern France, when there's a race never more than an hour's ride or drive from you, it's something that embeds itself deep inside, and damned if it wants to ever leave.
This is what makes these races special, the anticipation, the unknown quantities of weather, form and luck, all factors which add up to the most unpredictable racing; anything can happen on the day, the riders know it, as do the fans. Rather than packing the wet weather gear, warm jacket and wooly hat and drinking copious amounts of Malteni at the side of the Kwaremont or Carrefour, I'll be sitting in the dark in the middle of the night, watching online, yet still imbued with the same raw enthusiasm for these monuments among Monuments. The fact that I'll be half a world away will no doubt sting a little still, but if it does rain, then at least I'll get half of my yearly wish. And that is something to look forward to for sure.
VLVV!