Guest Article: Anatomy of a Photo-1994 Paris-Roubaix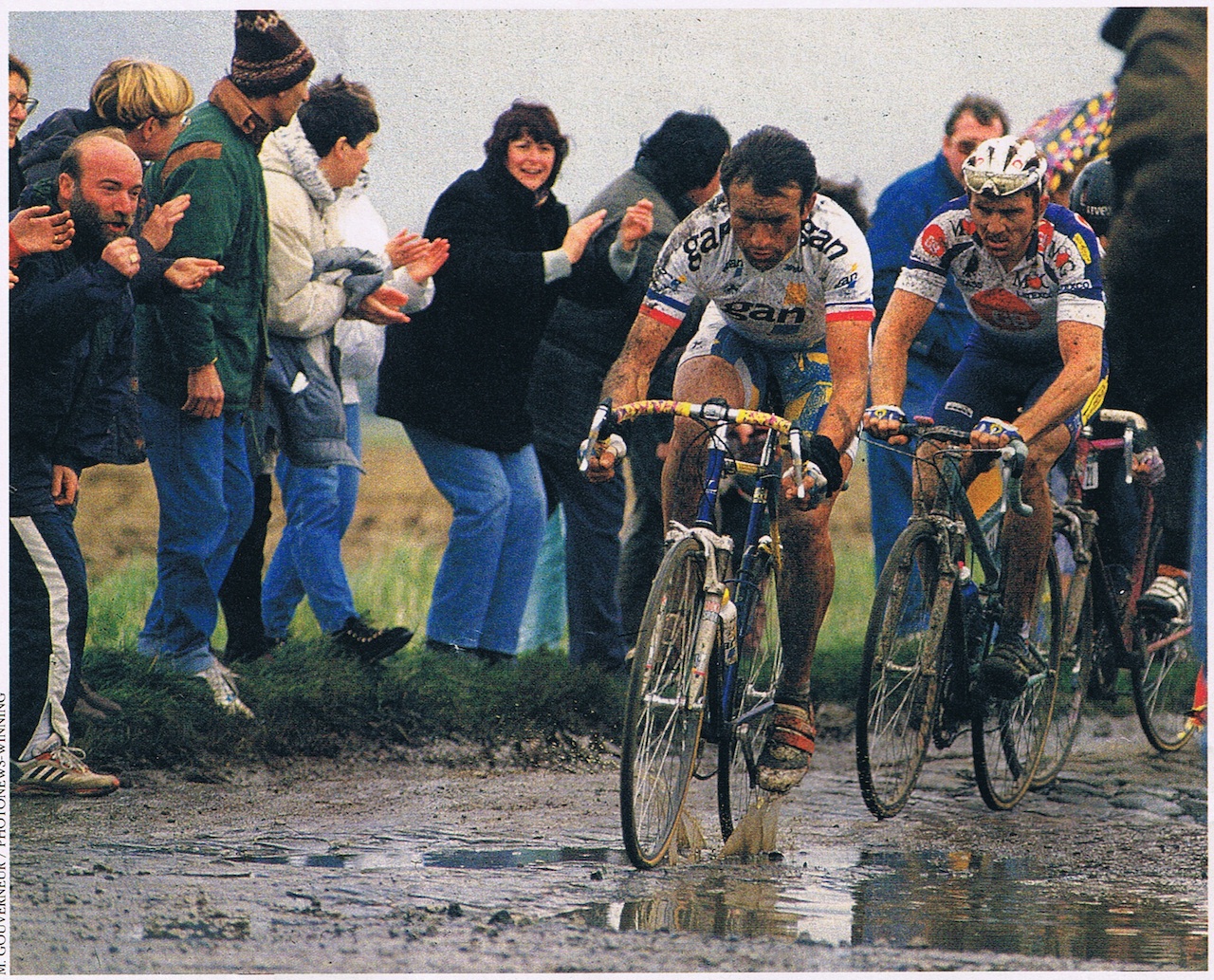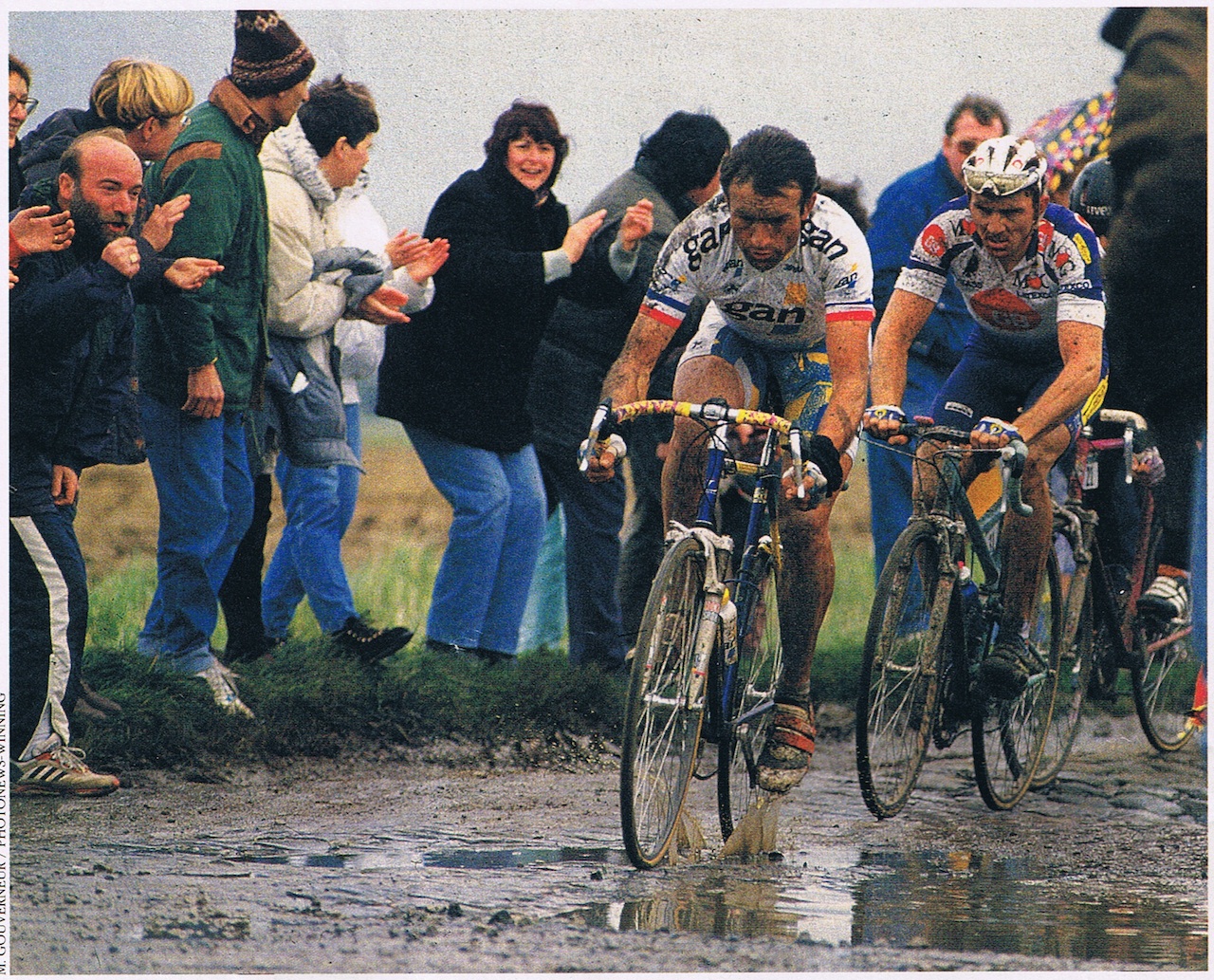 Duck and cover! Our guest article series rolls on with @scaler911's Anatomy of a Photo. Photo, words, enough said.
Yours in Cycling,
Gianni
—
Ah, The Queen of Classics. Hell of the North. L'enfer du Nord. Call it what you will, every spring we Velominati cherish this monument. Every April the course is set to put the pain to all who brave this glorious classic. The weather can be sunny, making things dusty – or rainy, making it a slippery, muddy mess. In the words of Orangeman Theo de Rooij, "It's a bollocks, this race! You're working like an animal, you don't have time to piss, you wet your pants. You're riding in mud like this, you're slipping…it's a pile of shit." When asked if he would do it again, he replied, "Sure, it's the most beautiful race in the world."
In 1994, Frenchman Gilbert Duclos-Lassalle was returning to go for a hat-trick. The weather was horrible, raining, cold. The course was shit. 14K in, the rain turned to snow. An attack went off, but that was not to last. The peloton came to life and caught the lone break-away man and an elite selection was made in the revered Arenberg Forest. Duclos-Lassalle suffered a puncture during one of several large crashes in the bunch and lost contact.
From behind, Duclos-Lassalle, Johann Museeuw, and new guy Andrei Tchmil caught the lead group. With 63K to go, Tchmil attacked hard and rode away to victory, becoming the first Eastern block winner of PR.
But what is compelling to me is the photo of Gilbert Duclos-Lassalle and hardman Johann Museeuw chasing. In addition to a fantastic study in the V, notice the steeds: Rockshock-equipped road bikes all around including Johan's Bianchi. It turns out that that Celeste wonder was a $20,000, one-off, fully suspended road machine that saw exactly one race. The cost, weight and UCI rule change prohibited any further development of those monstrosities. Thank Merckx, those were strange times my fellow VM, strange times indeed.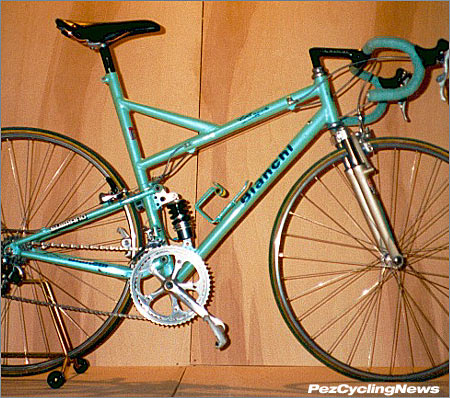 Check out the chainrings: 53 x 51?