Guest Article: Rose tinted glasses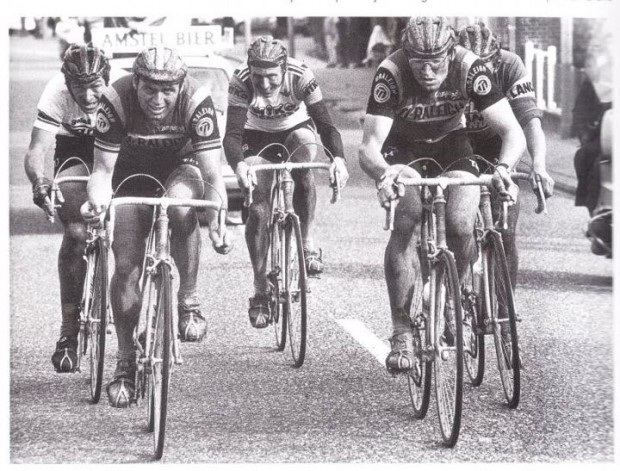 @wiscot's article speaks of cyclists of our youths and Jan Raas made a big impression on the young Gianni. Do the Dutch have a harder Hardman? He went on to become a director-sportif and I pity the riders under his command, they must have suffered like dogs. I cannot find a photo to document this but Raas's glasses had holes drilled into them along the outside edge to aid in defogging. It added to his coolness immeasurably. It almost made me want glasses.

Yours in Cycling, Gianni
We all have our favorite riders. Nationality, personality, successes, looks, grace, selflessness, professionalism, adherence to the Velominati rules, can all factor into our preferences and prejudices. Often our reasons are rational, sometimes less so. That's what makes it fun. For me, three of my all-time favorites, Jan Raas, Gerrie Knetemann and Laurent Fignon, fulfilled many of these criteria but were united by one: they wore glasses. As a bespectacled nerd from the age of 11 (I first wore my gold rimmed and oblong specs in 7th grade and was gleefully and mercilessly ridiculed in that special way pre-teens have), I rooted for those rare athletes who wore glasses, feeling a strong bond and kinship with them. I might never match their accomplishments, but I was sure they too had been teased about their crappy eyes at some point.
As I got addicted to cycling in the late 70s, one great rider stood out for his stupendously un-hip glasses: Jan Raas. Instantly identifiable, I also liked him because he was a solidly built chap just like me. His dour, stolid demeanor likely appealed to my Scottish soul too. When I finally replaced my massively over-sized red Holdsworth in 1982, it was with a Team Raleigh replica in Reynolds 531SL (I couldn't afford 753). Subconsciously, Raas made me do it. I loved that bike and tricked it out with as much Campagnolo and Cinelli as I could afford. It met an unfortunate end in 1984 when we collided with a car door in a ten mile time trial.
As my love of cycling deepened, Raas continued to win and I followed his results avidly; I still have a Campagnolo promo poster of him outsprinting Didi Thurau to win the World Championship road race in 1979. One of my favorite photographs of him is from Paris-Roubaix in 1982. It's a shot from behind as he speeds across the cobbles in a cloud of dust, hands on the tops, exuding pure power. The V in its purest essence. Coming off his back wheel are three, almost comic-like, puffs of dust – adding to the power of the image. While all I had to go on were pictures like these (there was no TV coverage available), they projected a badass rider of uncompromising strength, modesty and passion. From what I could tell, he wasn't a particularly emotive rider but a hardened professional who knew him limitations and focused on his strengths. He was horrible in the mountains but excelled on the flat and in races with short climbs; in my own very modest racing career I generally did OK in hilly time trials but couldn't ride a hilly road race to save my life. We had more in common than met the (four) eyes.
On the same TI-Raleigh team as Raas was Gerrie Knetemann. When I replaced my first ugly pair of glasses, I got aviator-style ones – similar to those worn by Knetemann. With his aviators he always seemed so much cooler and hipper than Raas, but as a member of the fearsome Raleigh team, no less awesome. Together with Raas and Johan van de Velde, Kneteman and his teammates dominated the Tours de France in the late 70s and early 80s in their iconic red, yellow and black team kit. Of course, I had a replica jersey.
In the early 80s in the UK, Channel Four began showing highlights of the Tour. Raleigh were, alas, waning in their dominance to be reborn as Kwantum. However, for some reason we got coverage of the 1985 Amstel Gold Race (alternatively known as the Amstel Gold Raas after Jan won it five times in six years between 1977-82). Raleigh were defunct by 1985 and the riders had dispersed to other teams: Raas was with Kwantum and Knetemann was with Skil/Sem/Mavic. Rarely have I rooted for a rider to win the way I did that day. It was run in atrociously wet conditions and I knew how hard it would be to see through rain-spattered glasses. (He really needed his glasses to see and there were no helmet vents in which to carefully stow sunglasses). Close to the finish, Knetemann, in his iconic red, white and blue Skil/Sem/Mavic jersey, attacked to solo to the line in one of his greatest victories – eleven years after his first victory in this race. I remember him punching the air long before the line as the Dutch fans cheered his every pedal stroke. On the podium, his dark aviators could not hide his tears of joy. Age may have been against him (he was 34), but race-smarts and a passion for the biggest single day race in his home country saw him triumphant.
Laurent Fignon wore even hipper glasses than Raas or Knetemann. His gold-rimmed ovals together with a ponytail and his college education marked him as a rider apart. I liked that. I've always had a soft spot for athletes who proudly proclaim their education or interest in cultural matters in the face of withering scorn from teammates. This, plus Fignon's panache, style and wins made me love him. His win at La Plagne in '84 when he blew everyone away is classic – as his magnificent finish line salute. There are too many great images of Fignon out there but they invariably have one thing in common: they show a rider at the head of affairs, laying down the V. No sitting in waiting for wheels to suck, he attacked – and won often.
(Incidentally, in 1982, the same year Raas won Paris-Roubaix, Milan-San Remo was won by the bespectacled Marc Gomez who took advantage of a fall by Alain Bondue on the Poggio to record the only major win of his career. A good spring for the bespectacled.)
Alas, Fignon and Knetemann are no longer with us, taken long before their time. Today, we live in an age of lasik, contact lenses and cyclists wearing their ubiquitous sunglasses. No more can riders of less-than-perfect eyesight differentiate themselves from their colleagues. No more will bespectacled nerds find kinship with bespectacled cycling heroes, we'll have to find other points of connection. Even so, with our metaphorically rose-tinted view of the past we can look back on a bygone age when the hard men in glasses took no grief from anyone.