Il Progetto: The Bozzie Is Single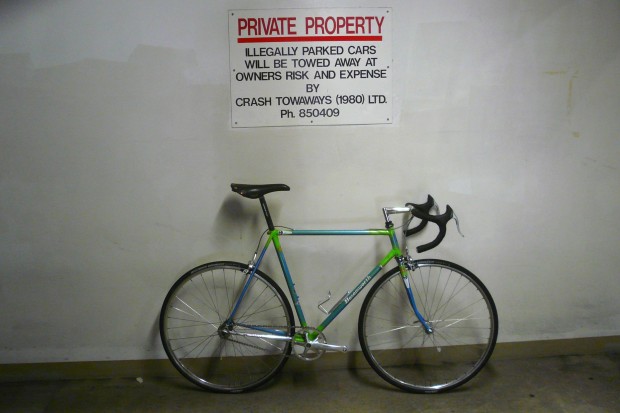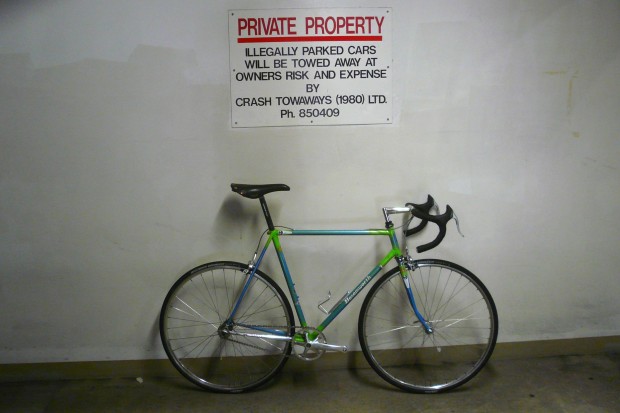 Let's talk about bikes. Yeah, bikes are good. After all, they are "the central tool to our craft." They are the reason we became Velominati, the portal through which we travelled to this life. When we were kids, we saw a bike for the first time; we liked the look of it, and when we rode it our lives were changed forever. We didn't one day say "I want to be an athlete, what type of sport shall I do?" or "I need to feed my massive ego and make millions, what tool should I use for its exploitation?" No, we liked the sensations the bike gave us, the freedom, the speed, the endorphins (although we didn't know what they were called or how they worked, we knew they felt good). From our first bike to n+1, each bike has a a story to tell, and a part of each of those bikes stays with us forever. Or maybe it's just me.
For about a year now, my beloved Bosomworth has been sitting forlornly in a corner of the shop lunch room, just a frame and fork waiting to be extricated from its dusty home under the fake plastic pot plant. But it needed the right gear to bring it back to life. It was the only way I could do it justice; Campa gruppo, circa 80s, maybe some downtube shifters and tubulars. Yeah, I wanted to do it properly. But a lack of available parts and a bigger lack of the funds to procure them meant that the poor old girl remained in the corner. It almost broke my heart. Then I had a vision.
I'd watched the insanity on two wheels on display in the movie Line Of Sight, a doco on filmmaker Lucas Brunelle, who follows alley cat races all over the world and films the action while dodging the same traffic and pedestrians as the nutjobs racing. I'd gotten into his stuff when I first came to Wellington and was riding a fixed gear Langster as my commuter and for longer road rides on the weekend. I remembered how it had made me pretty strong at the time, how my stroke was the most magnificent it had ever been, and I thought "why not? Let's get the Bozzie back into action as a singlespeed". I say 'singlespeed' and not 'fixie' as I kinda like the idea of coasting down the other side of the hills I've struggled to ride up. A scour of my boxes of bits would provide enough to get her functional. After all, I wouldn't be needing derailleurs, shifters or a cassette.
I already had some vital organs put on ice for the eventual rebuild; a Regal saddle, Chorus carbon post, a brand new Chris King headset (which I picked up for $60 off the distributor who had lost the contract and was clearing out stock), ITM quill stem, and a Mavic front wheel which came with the bike when I first bought it. My friend Ash had bought a beater a few weeks back and swapped the drop bars for a flattie, leaving a set of Sakae Modolos with 105 brake levers behind. Perfect. All I needed was a back wheel, cranks, BB, and brake calipers. I scrounged the wheeel and brakes from Ill Pro Ghetto, and found a set of 105 cranks and Octalink BB in the bins. It was all too easy. Josh donated a 42t single ring and bolts, and I broke up a cassette to get a 17t cog for the rear. A new set of brake hoods and bar tape finished her off.
One of the great misnomers of singlespeeding is "oh, it's the simplicity of it". No. Anyone who has ever tried to convert a mountain bike into a singlespeed will tell you it can be a royal pain in the arse. Getting chainlines perfect and tensioners to actually tension the chain, finding the best gear ratio, joining and re-joining chains, it can be an exercise in frustraion. Luckily the Boz has slotted dropouts with screw adjusters, which made the tensioning task so much easier. The wheel, being quick release, had potential to twist in the frame under load, but the adjuster screws help eliminate that. A few rides up the ramp and she was deemed fit to take out for a real ride.
Now, riding a singlespeed when everyone else has gears can be great if you are strong and the terrain is right. Or it can find you spinning like a madman while watching the pack ride off into the distance while clicking their levers as if to say "you know bikes come with gears, don't you, dickhead?" So my cunning plan was to gee up my mates a week or so before with sending out the link to Line Of Sight, and suggesting we all break out our singlys. I knew @Rigid and @Kah both had bikes already, and @BianchiDenti was in the process of assembling his old Bianchi frame into a commuter. The seeds were sown and when our Tuesday night ride rolled around, there were three singlys, one fixie and a 1 x 8 under @BianchiDenti, with the promise of "I won't change gears" affixed to it. All we needed were skinny jeans and messenger bags.
But we are road riders, not douchebags. We were riding road bikes, in road gear, on our usual road route. And it was a hell of a lot of fun. Mostly. Except when going uphill, or downhill, or into the wind (which was particularly strong, even for Welli). No, it was definitely a good time, and a hard ride. Denti managed not to change gears the entire ride, which must have been difficult because my thumb was constantly ghost shifting where the lever should have been. I managed to pull off a monumental save when my chain derailled as we started to sprint up a rise in the road at a known attacking point; as I somehow avoided a) nutting myself and b) hitting the deck, I wobbled into the path of @Paul whose pedal lodged in my back wheel, with enough force to lift his bike off the ground and bend a spoke in my wheel to breaking point. It would've looked cool to anyone behind us, but we were at the rear so no-one got to laugh at our gymnastics. That spooked me a little, as I'd had the same thing happen about ten years ago on a mountain bike, with much worse results. The rest of the ride was spent thinking about nutted track wheels and not getting out of the saddle again.
Il Progetto still has more twists in its tale, I'm sure. The Bozzie deserves to be dressed in old Campa, but until those planets align, she's going to be doing at least one ride a week to help with my prep for Keepers Tour. If I go fixed again, then at least I may be able to perform on Eddy's velodrome a bit better than last year. But the main thing this conversion has brought (back) to me is that sense of fun that the simple act of riding provides, without gears, without bells and whistles, and without a huge price tag. Just riding.
VLVV.