In Memoriam: The Original Park Adjustable Linkage Clamp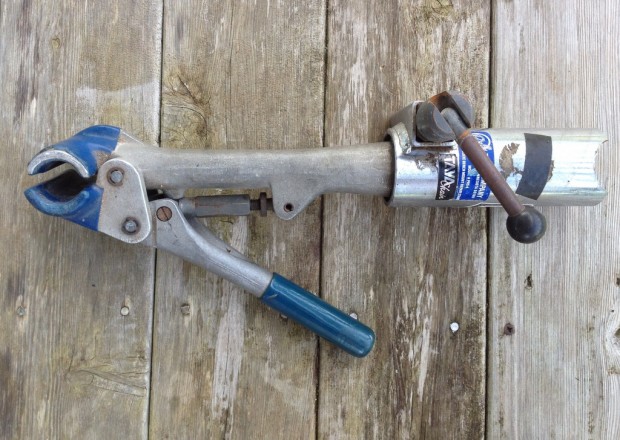 There are certain bicycle tools that once owned, signify much more than just ownership. For me, it was this Park clamp. No one starts out with a proper bike stand. For any cyclist, I see the early years of working on the bike as it leans up against the end of the bed. I also see no live-in girlfriend or second room to do this in. This era includes adjustable crescent wrenches and pliers as the go-to tools.
Once one fully realized the impossibility of replacing loose headset bearings on a bike leaning against furniture on a shag rug, the search began for a work stand. For me it ended with one made by Minoura; functional but a violation of all we hold dear. It was functional like a bowling ball is functional in a bar fight. Something unintended was going to happen and something was going to get damaged. It's a folly of youth where one always wants to buy the best bike components but not best tools to install them. Bad tools make for graphic expletives.
The bike frame teetered on its bottom bracket shell on the Minoura stand. A cheap book clamp marred the paint on the downtube. I've put out of my mind what might have followed that in my work stand evolution. Whatever it might have been, it did suck.
The quantum change happened when @Rob's and my LBS went out of business. The owner, like most, was worn down from years of barely making a profit. He threw in his Phil Woods waterproof grease covered rag and said Basta! He allowed me into the basement which was both stock room and secondary wrenching room. I pounced on one of his Park clamps, can I buy this – for cheap? (Yes, I'm a terrible person). I left there as excited as if I had bought a new bike. Merckx be praised, I have a proper work stand. Actually all I had was the clamp and its socket but I had access to all the things necessary to fabricate a support column and base. This was one of the things in life that actually lived up to expectations. It was fast. It was quickly adjustable. It was extremely Pro.
You want to work on your bike? You just chuck the frame's steel seat tube into the clamp, throw the lever and done, perfect. And it was perfect until my Merlin Extralight entered and we weren't allowed to clamp onto that seat tube. The seat post was the only thing legal to clamp to. What a world, what a world, perfection had come undone. The clamp was now too low for proper seat post clamping. Unhappy accommodations were made, but years later, when the wife's new Madone seat post was too fat for the adjustable clamp, even I had to admit defeat. Oh Fortuna, you are a cruel and unreasonable mistress, FFS.
New frame materials meant the original Park adjustable clamp's long run at the top was over. For everyone but me it was no doubt over ten years ago but I'm always the last guy to leave the party (too high to find the door). Park has adapted to new frame materials and new shapes. Minoura makes something approaching a normal work stand. Even I am on top of this. Soon a new Park adjustable clamp and taller (and adjustable!) steel column shall be fabricated. All will be right with the world once again.