The Dark Side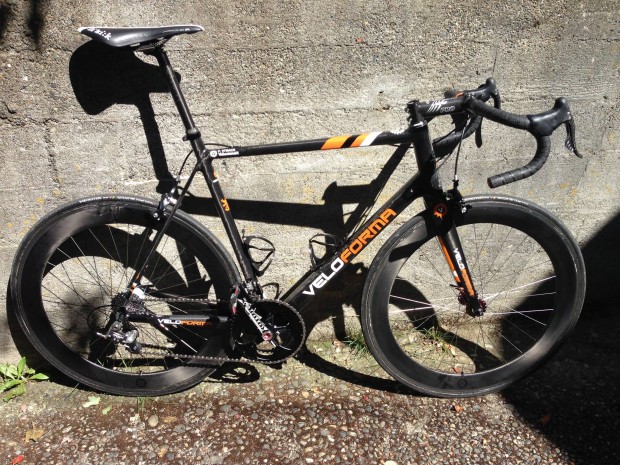 White is a troublesome color; hard to keep clean. I have a white dress shirt that I never wear because even if I manage not to spill on the front of it, the cuffs and collar will look crap by the end of the day regardless. I mean, I can keep from eating something all day, but I can't keep from drinking coffee or wine, and before very long some of it is going on the shirt, right were people check out my man-boobs.
I can't keep my dress clothes clean, the ones I wear to my office. That's a clean business, going to the office. And Cycling is a dirty business, even on sunny days there is a road grit and chain grease to contend with. And our feet and hands get the worst of it. Who in their right mind would ride with white socks and bar tape?
In my younger days, I started a website called ControlFreak, for which the tagline was "a term used by lazy people to describe someone with standards." Obviously my writing skills had some room to grow and I was also too young to understand the practical complications of having things like "standards". Nevertheless, I am proud of the sentiment. It was a first (malnourished) seed of Velominati; its uncompromising attitude built a fiber of the vein that runs through our heritage in this community. In the ControlFreak sensibility, white socks and bar tape are for those of us with standards of cleanliness; they are for the aesthetic steadfast who are willing to invest both the time and inventory to maintain a matching set of curtains and drapes. Black is for those who are too lazy to keep a clean house.
My Number #1 has always had white bars. The other bikes can have black tape because white bar tape is for leaders; Bike #1 is Alpha, the others are Beta – no matter how much I love them.
So why is it that I have been attracted by the blackness of my handlebars every time I unwrap the tape from them? I'm not talking about the Betas, I'm talking about my Alpha: my Veloforma Strada iR. It was a time of turmoil, maybe. Perhaps some unrest in the Force, where the Dark Side grew in strength. Or maybe I enjoyed too many Recovery Ales that day. The event was too long ago and too poorly documented for anyone to be certain, but the fact is, I wrapped Bike #1's bars in black tap.
Let me say that again in a separate paragraph: I wrapped Bike #1's bars in black tap.
No one else. Not the guy down the shop because he didn't have anything else. Not the VMH. Not my sister. Me.
And I loved it.
The bike was so stealth I felt like I was riding a Sith. Actually, maybe not – I don't think a Sith would stand for that sort of thing. Maybe I felt like I was riding a Sith Speeder.
But something was missing. I didn't feel right. I felt a few centimeters off-center, so one night I picked up a new roll of fizik microtex and rewrapped the bars in white.
It felt good to go back, like taking a shower after a long camping trip. Or brushing your teeth after a night on the piss. There was something visceral about it. I brought the bike up to the bedroom and leaned her (gently) against the wall so I could gaze at her as I fell asleep. It felt good to know I had come back to my center. I had come back to expecting more of myself. I would keep my bar tape clean.
Darth Sidious said, "If one is to understand the great mystery, one must study all its aspects."
Just because he's a jerk doesn't mean he's wrong. Just so long as we find our way back to The Path.
That night, I slept soundly.