Cobbles, Bergs, Beer, and Legends. Putting the V Back in Vlaanderen.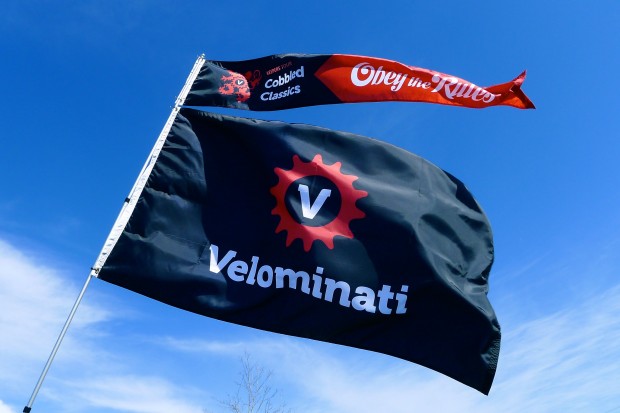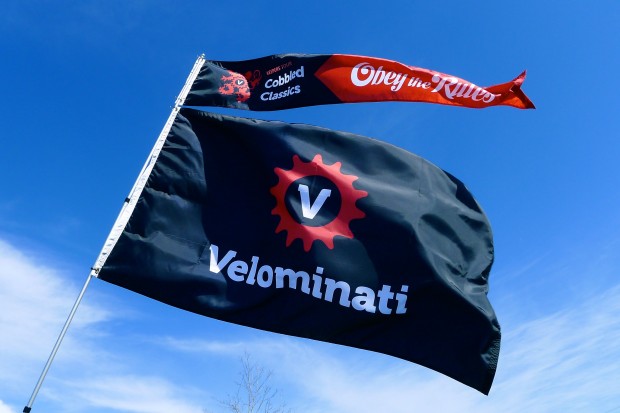 It has been a busy couple of weeks in the Velominati Boardroom as we've been scrambling to finalize a few partnerships and get all the products for the Keepers Tour customers designed and produced. Suffice to say, fists and beers were slammed in tandem as we feverishly worked out the final designs.
Producing V-Pints, V-Shirts, and V-Musettes seems a simple enough task; and we also needed a flag and banner to fly at the roadside of the various races we are due to watch from the roadside, including de Ronde van Vlaanderen and Paris-Roubaix. There was also a the small matter of getting our hands on musette bags, which aren't commonly found on the market, as far as we could tell. Fair heart, never worry; Gianni and his VMH took matters into their own hands and made them up from scratch. If their other business ventures fail, musette-sewing may be a good fallback, they Look Fantastic.
The most significant effort due was for the Keepers Tour Cobbled Classics 2012 design; enter our graphic-design mastermind, KRX-10. We tossed a few emails across the net and settled quickly on the notion of using a variation of the Lion of Flanders. "Now we need a public-domain vector graphic. Race you to it", was the last word from KRX10 on the matter before the design was finalized. Then it was on to deciding on a tag line, with the result being perhaps the best example of what happens when the Keepers argue long enough on such matters.
With that, we proudly present the official artwork for Keepers Tour: Cobbled Classics 2012: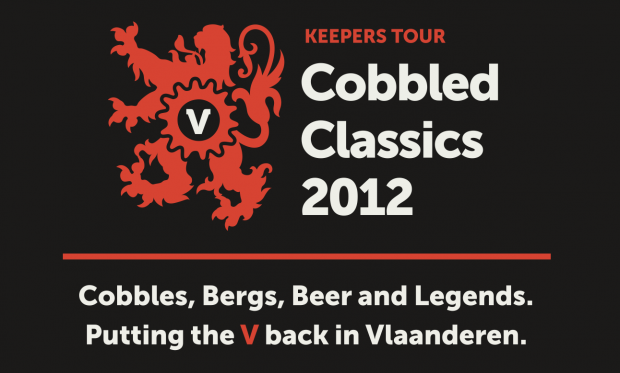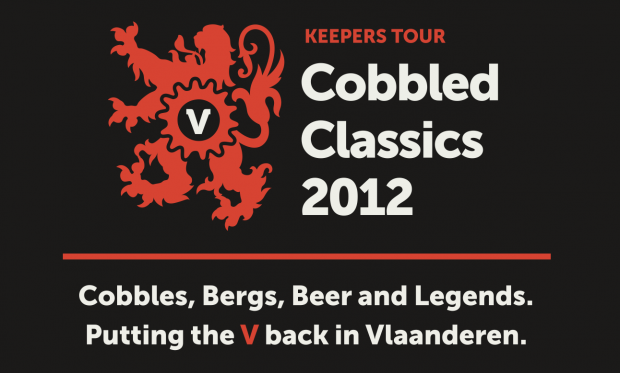 The last two weeks I've felt like a kid waiting for Christmas as orders were placed and we entered into the torturous period of time while we waited to lay our hands on the final products and see the fruits of our labor. And I have to say, this round may have produced our finest products yet; the V-Lion and tagline turned out magnificently, as did all the other items. The flag and banner are actually breathtaking – waving in the wind. We hope you like it as much as we do.
A few items of note: Attendees of Keepers Tour will receive a musette packed with their V-Shirt and V-Pint along with a few lovies from our sponsors, and will also have the honor of commenting for the next year with the V-Lion badge. Also of note is the matter that these products are not available for sale and will never be; the only way to get Keepers Tour products is to attend a Keepers Tour, so bear that in mind next time around. Finally, if you're looking for a real photo of the V-Pint, you'll have to wait until we arrive in Belgium, as they were shipped ahead while I was away on business and as such they have not yet been seen by anyone, even me.
Please also get yourself acquainted with our Twitter and Tumblr sites if you've not done so already – we'll be reserving the site for major updates, and will be posting minor updates in those to locations throughout our trip, with Twitter being used for small updates, and Tumblr for the ones that are too much for a tweet and too little for the V.
VLVV.
[dmalbum path="/velominati.com/content/Photo Galleries/[email protected]/Keepers Tour CC2012/"/]