Theatres Of Dreams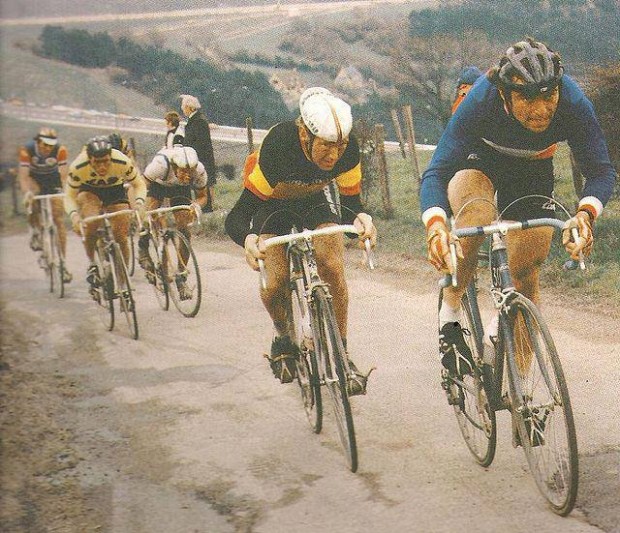 The home ground of Manchester United Football Club, Old Trafford, is colloquially known around the world as the Theatre of Dreams. It holds a revered place in the hearts of the club's supporters, and even those of other teams; it's an icon of football, and sport in general. Millions have gone there to watch their heroes play, but how many can claim to have set foot on the hallowed turf, let alone have a kick around or slide studs up into a tackle a'la Roy Keane?
That's why Cycling is such a unique and special sport; we can ride our bikes on the very same roads that our own heroes have raced upon, where the very greatest racers have conducted battles in the very greatest races for decades. We can recreate winning moves in the exact spots that they actually happened; want to smash it over the Carrefour like Faboo or Tom? Got a hankering to climb the Muur in the big dog like Museeuw? Maybe give it some berries on La Redoute like The Badger? You don't need an entry fee or a permit or to jump a fence; the roads are ours to ride, anytime.
This is something I love the most about the Keepers Tours, besides hanging out with mates both old and new of course. Every day there is an iconic road to be ridden, an anecdote related by William, Alex, or even the Lion himself. "This is where I attacked to win my second Ronde" is something I'll never forget hearing as I climbed alongside Johan on the Tenbosse, the small crowd lining the climb to catch the Espoirs Ronde double-taking as they recognised the legend out for a ride with some nobodies on a chilly Flemish afternoon. How many Man U fans will ever get to hear Eric Cantona say "this is where I blasted one through the wall and made Seaman look like a park goalie" as he slots a pass for you?
Football fans can dream. Cycling fans can live them.
[dmalbum path="/velominati.com/content/Photo Galleries/[email protected]/dream roads/"/]
KT2013 on the Carrefour l'Arbre