Riding on the Tops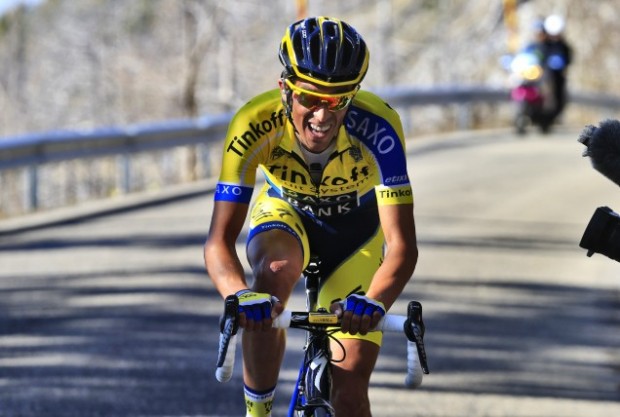 Going fast and looking good while doing it is our Velominati creed. Riding on the tops is the domaine of going uphill, where braking and aerodynamics are unimportant. In most other situations that position is too slow. The pros are usually flattened down in the drops or flattened down on the brake hoods. When us non-pros are not climbing, riding on the tops is less about looking pro than looking like a confident cyclist. I've noticed it when I ride with such confident cyclists; I'm not one but aspire to be.
I was given the tip when mountain biking: when descending, steer from the bull horns (are these still even used?) because it keeps your hands away from the brake levers. One descends more efficiently. If your mitts are on the brake levers, you are going to use them, especially if you are Big Pussy (my mtb nickname, self given). Putting on the brakes diminishes bike handling, period. On a mountain bike, the suspension and properly inflated tires are going to get bike and rider where they need to go and getting on the brakes too much is just going to screw the whole process up. Did John Tomac use his brakes? I rest my case.
On a road bike, riding with hands on the tops does the same thing; it keeps your hands away from the brakes. I watch guys riding side by side, chatting away, hands relaxed on the tops. They fearlessly carve their bikes through tight fast corners while I'm behind, feathering the brakes on the way in and then jumping out of the saddle on the way out to recover the speed I just scrubbed off. It's no way to live. I'm not sure how to cross that threshold where one's Big Pussy trepidation says to slow down a bit and one's rational mind says trust your tires. It is maddening. My inner Rule V must be consulted.
During our Manhattan rollout during The Rules book tour, ride leader Rob of NYC and Frank led a our large pack up the West side on a bike path along the Hudson. It was a two-way bike path, two meters wide and it crossed a myriad of streets and cross-walks. I watched Rob and Frank chatting away, hands on the tops, deftly avoiding every jogger, stroller, roller-blader, cyclist and pedestrian there. We whipped into the opposite bike lane to pass all of that and drifted a little right as all that came the other direction. Rob and Frank emanated cycling confidence that said, sure my bike has brakes but I'm really not interested in them right now. It looked very cool and somehow safer. I had my hands resting directly on the brake hoods ready to brake at the first sign of a baby stroller crossing my path.
We don't drive cars with our other foot hovering over the brake pedal, ready to stomp. We don't need our hands always a second away from our brakes either. Knowing that and doing that is where we become more confident cyclists.