Anatomy Of A Photo: Mad Jacques, Pioneer Of Neutral Service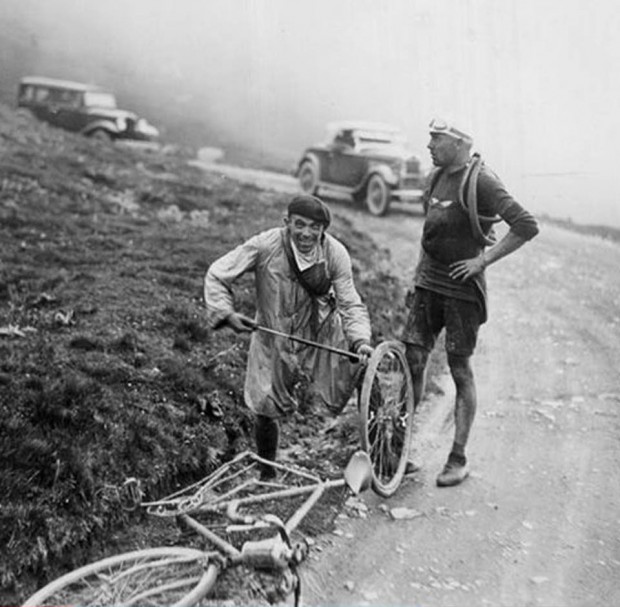 Whenever you see one of those yellow cars or motorcycles laden with spare wheels and manned by efficiently deliberate young professionals with no allegiance or favour to any one rider, take a moment to reflect on the oft-overlooked pioneer of the neutral service as we know it today, M. Jacques Mavic.
Usually only sighted once a year in July, Jacques would appear out of the thin air of the Alps, armed with his trusty Silca and a set of nail clippers, offering assistance to any rider that needed it. Most of the time, they didn't, but they knew when that mad glint lit up in his eyes, there was no course of action beyond waiting for the police to arrive while Jacques manically pumped an already inflated tyre while yelling "Mes têtards émigrent".
The last known sighting of M. Mavic (which translates literally as "replace me") was around 1957 around Grenoble. The only remaining evidence of Jacques' and his innovative service work is his oil-stained raincoat and a matchbox containing a 3/16 ball bearing tangled in hair, now housed in the Plumbers Museum in Oudenaarde. With only patchy anecdotal history to go by, the life of Jacques is still one of mystery, violence and paté.
*What do you know of Jacques' history?