Il Gruppo Progetto: Resurrection of a Pirate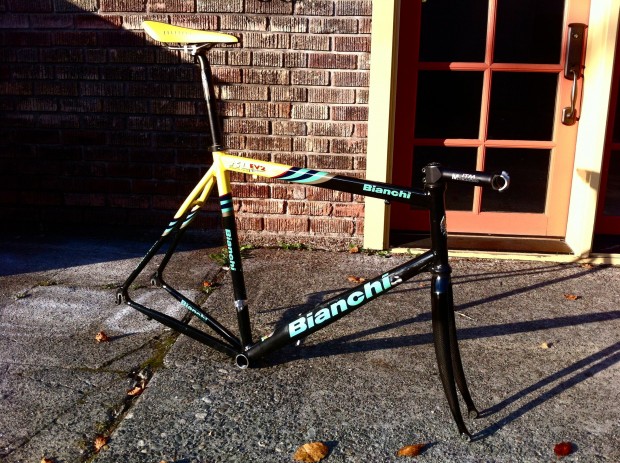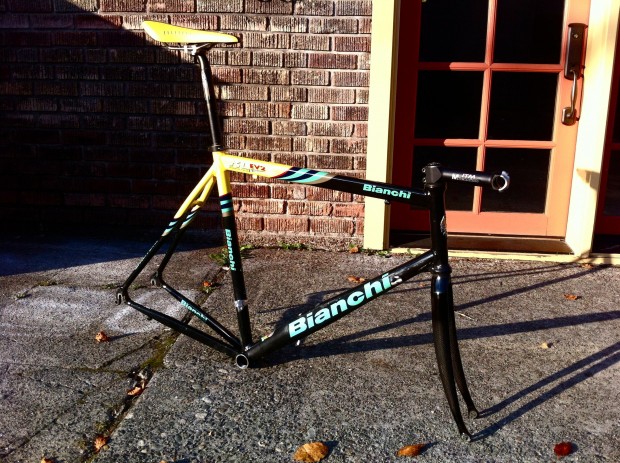 The corollary of Rule #12 is that one focusses the bulk of their energies on upgrading Bike #1 with the result that upgraded gear typically cascades down to Bike #2 and on down through Bike #n. This is The Way of Things; Bike #1 gains the most, but in the end, they all benefit as upgrades trickle through the stable, with the oldest and most worn gear falling from the bottom where they are either discarded or await enough accumulation to justify another build.
There comes a day, however, that we find ourselves needing to inject an upgrade into the hierarchy, an upgrade which disrupts the Natural Order. This was the case when I reluctantly replaced my XL EV2 with my new Soloist frame. My EV2 holds a dear place in my heart. I built her bit by bit, from components scavenged from eBay over the course of an entire winter. She was at my side (under me, actually, if we're going to pick nit) as I rediscovered La Vie Velominatus. She was built from scratch in homage to one of my all-time favorite cyclists, Pantani, and his elusive 1998 stallion. She was the first bike I owned that fit me the way I wanted. She was the first bike I had with compact geometry, she was the first bike that cleft my heart in two when I crashed during a crit and destroyed the frame. (I quickly replaced hers with another, identical frame, which is the one I have today.)
Suffice it to say, to have her hanging from a nail in my workshop is a dishonor to this beautiful, loyal friend who carried me back to fitness and through some of the greatest ride's I've been on. Never once did she complain that I was too heavy. Never once did she cringe in agony as I pushed harder on the pedals. Never once did she point downhill when the road pointed up. She carried me through the 2003 L'Etape du Tour and up l'Alpe d'Huez on the morning of the stage. She carried me home after bonking in the heat of North Carolina. She guided my rear wheel back to safety as I was slipping to certain death under a passing semi-trailer on a rain-slicked railroad track.
We have been through a lot together; she must be resurrected. But the question is, in what form?
Bikes are meant to be ridden. I have a carbon Bike #1 and a steel Bike #2, both of which are generally ridden in good weather only, although accidents do happen and they do find their way onto wet roads occasionally. I have a sublime Alu Bike #3 which boasts an identical fit to Bike #1 and serves as my rain bike, thereby getting by far the most use. As far as road bikes go; I have the spectrum fairly well covered and I fear that adding another will mean that she lives out her life being overlooked for my daily rides and go largely unridden, a dishonor almost as great as her current state of limbo.
What I don't have, however, is a commuter bike; a bike to ride to the cafe or farmers market. A bike to hop aboard and pedal to the office. Do I build her into a commuter which gets ridden, if not in the spirit for which she was intended? Or is this a bigger dishonor than not riding her at all? If I do build her into a commuter, do I rider her with drop bars and my old STI shifters, or do I opt for a set of commuter-friendly mustache bars which I've fancied ever since I spotted my first Bridgestone X0? Downtube shifters or bar-end shifters? Full funders and wide tires, I think, though how wide is possible on her tight racing geometry?
Or do I build a funeral pire and set her ablaze, allowing her noble soul to return to Merckx on Mount Velomis to be reborn to someone else's stable?
Fellow Velominati, I submit to your input: how best to honor this noble steed?