Impromptu Mini-Cogal – Newcastle, Australia 2012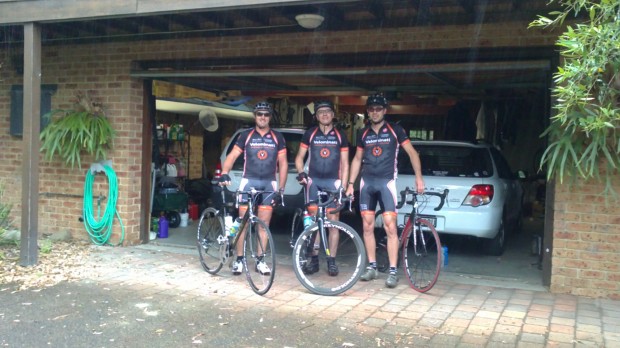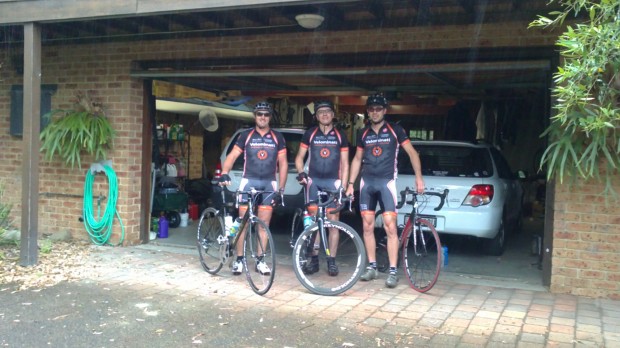 Riding bicycles brings people together. It forms bonds. Bonds that can last for years, lifetimes, transcending distance and even a total lack of contact and communication. Friendships are forged through a common passion shared only through the medium of the internet, as we experience here on this very site. It's a unique entity that has the power to bring total strangers from opposite sides of the world to a common ground, a ground to be rolled over on 23mm tyres, the only known denominator between the former strangers, now counted as good friends.
Travelling halfway across the planet to meet a dozen or more web/cycling geeks on hallowed turf is a pretty daunting task. All we know about each other is gleaned from words on a screen, an image of a lycra-clad body, and the ability to conform to a set of Rules that are nothing more than fashionista's ticklist on two wheels. But the core element, the act of riding a bicycle for leisure, fun or more competitive pursuits, is what is at the heart of such an extreme undertaking. The Keepers Tour will no doubt forge even more new friendships, which will last a lifetime. At least the memories will.
When I first met Col, it was on a ten day training tour in Tasmania. We had crossed paths before, he being a customer of the shop I was working in, yet I'd never really 'met' him. Over the course of the tour, we rode over huge hills, through rain and cold, heat and dust, challenging each other up climbs and in town-sign sprints, and finished each day sharing our stories over cold beers. When we returned to our hometown, our friendship was consumated with more riding and more beers. While his bikes were covered in tape and string and dirt, his clothes mismatched, tattered and falling down, his pure love for the sport, our sport, was impossible to ignore. He was a Velominatus, long before the term was even thought of. Moreso, he was the catalyst, the blueprint, for what would later become known as The Rules.
Scotty was known to me a long time before we became friends, always at the head of the Masters fields at the MTB races, a name more than a face to me. He seemed almost untouchable, up at the pointy end while I hovered a little further back. As my racing nous was honed, I got closer to the front as he was probably winding his own efforts down a bit, and we got to scrapping during the racing and talking after it. He seemed like he was on the same wavelength too, with a similar twisted humour to that of myself and Col. While there are many like us who love to ride, only a few can connect off the bike, on a level that some may view as slightly off-kilter. It's the difference between being a bike rider and a Velominatus.
El Ganso. The Goose. What can I say about one of my oldest and dearest friends? We've been mates for twenty years now, after meeting in a carpark in a forest at a mountain bike race in '91. It was the music wafting from his car that got us talking, not the fact that we were going to be battling it out in the Novice class of the XC the next day. We would run into each other over the next year, always at races, but then we'd disappear from our respective radars. Not until 1995, at the World Cup race in Cairns, 2000km from our home, would we meet again. Steve picked me out in the crowd of thousands, and if he hadn't then our lives would be so much different now. We travelled to Europe together, sharing some of the best moments of our lives, before he met another of my good friends and married and impregnated her (not necessarily in that order!). Our almost snobbish love of beer possibly exceeds our love of riding.
As I was back in Newcastle NSW for my first Xmas in my hometown for five years, catching up with as many of my friends as possible was always going to be a big ask. But these three are always on my list. We'd had a couple of off-road jaunts already when we decided that a road ride was in order. When I arrived at Col's house to borrow one of his many steeds and start the ride, the sight of him and Scotty in their V-kit brought a smile to my face. We had ourselves a mini-Cogal! Of course Steve was there too, but was lacking the V-kit but not lacking any Essence of V. The fact that Scotty and Col had ordered and bought their V-kit without my knowledge or help shows what kind of mates they are. They didn't expect 'mate's rates' or any favours, they just wanted to support their friend, be part of the community, and look stylish while laying down their usual helpings of Rule #5. It's the best I've ever seen Col look!
The conditions were Rule #9, with steady rain for most of the ride. It wasn't long before we were watching Scotty fix the first of the four punctures for the day, and each enforced stop was a chance to extend the good times, to talk crap and try out our bad jokes on each other. While we only rode around 60km, we were out for around four hours, with a nice long espresso break included. It was about more than just the bike. It was about what the bike had brought to us, how it had brought us together, and kept us together.
On return, Col's lovely partner Kelly had prepared lunch for us, proffered beers and a hot shower. We chilled out and watched cricket and flicked through Col's magazines, savouring the moment for as long as we could, knowing that we wouldn't get to do this again for a good while.
I realise that it may be another eighteen months before I see these guys again, but I hope it won't. If it is, then I know that they will still be the same great mates, the same good people, the same twisted nutters that I love. And we'll still be riding bikes, drinking beer and having a load of fun doing it. Together.
Vive La Vie Velominatus.
[dmalbum path="/velominati.com/content/Photo Galleries/[email protected]/Cogal 12/"/]
*I have some videos, but this stupid site won't let me upload them!