Les Maîtres de la Casquette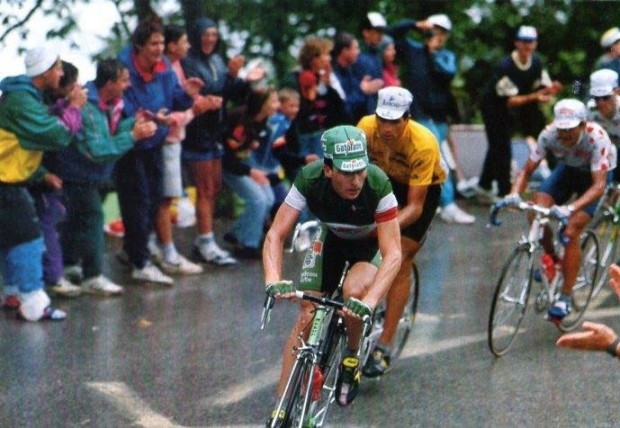 It doesn't take a genius to see what's going on here. Rule #5, Rule #9, Rule #10; every rider in this frame Looks Fantastic (most other Rules). The riders are in short sleeves and shorts while the public apparently has scavenged materials from rubbish bins and the local grain elevator in a very visually unpleasant effort to keep warm. When I visualize the 90's, this photo pretty much shows what I see. (Why was the weather so crap in France during Big Mig's reign? Only redeeming quality of his wins.)
What this photo also shows is the highest concentration of Les Maîtres de la Casquette, the masters of the Cycling cap, in recent recorded history. We discussed the art of wearing a Cycling Cap before, probably more often than necessary. Like all art, it begins with some founding principles, and then opens itself to the artist's vision and expression. And like with art, there are The Masters.
In the art of wearing the revered casquette, we are guided by the Three Point System. From there, we are at liberty to express ourselves. In the days before helmets, the peloton was overflowing with masters of this studied art with an early style peak coinciding directly with the point of bushiest sideburns, but it has since all but died out. The last peak was in 1991, when Big Mig, Chiappucci, Bugno, Luc LeBlanc, and Richard Virenque were all at the height of their powers. Like the Jedi after the rise of the Sith, it is the responsibility of The Velominati to keep this art alive.
It also occurs to me in the state of high fever in which I write this, that the transcended Velominatus is always engaged in a Cycling-related activity which could possibly provide a release-clause for any accusation of a Rule #22 violation.