On the Road Again: Keepers Tour 2015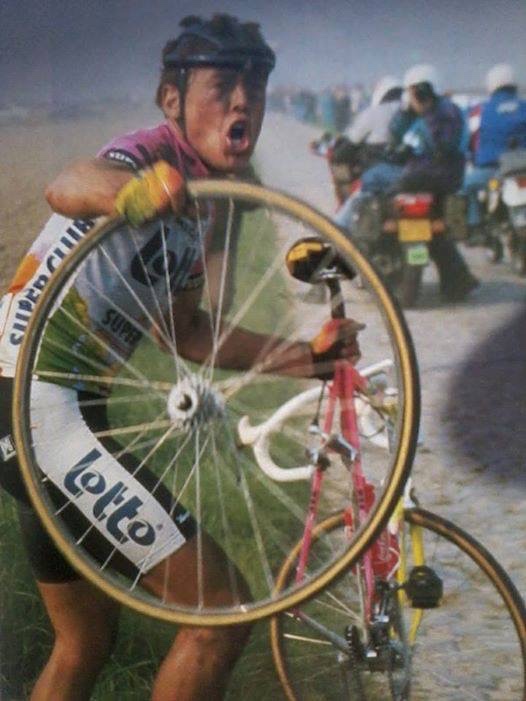 We want to look like Pros, sure, but what we're really after is feeling Pro. All the aesthetics are just a tool we use to fuel the fickle internal combustion engine of Morale. In the end, there is little that will make you feel Pro more than clattering along a stretch of cobbles in a small group; instant "select breakaway". One of the magical things about the cobbles is the risk of crashing is always there, so your adrenaline is always pumping. The other magical thing about the cobbles is that you have to ride them full gas to smooth them out, which means you have the combination of bombing along a tooth-rattling road at full gas with adrenaline coursing through your veins like it's New York in 1984. And then Johan Museeuw blows by in the gutter and now it's a real party.
The most Pro you'll ever feel, however, is clattering along the cobbles, feeling your back rim start to hit the stones and realize the worst: you've got a flat. You don't have any tools; in fact you have nothing in your pockets at all. But fear not, you just swing off, do a cyclocross dismount while reaching for you back QR skewer which you unlatch right as your second foot hits the ground. A snap of the seatpost and the wheel comes loose. You hold it up in the air and the support van screeches to a halt as the mechanic jumps out with a fresh wheel. Moments later, you're back on the street, in the non-prostitute sense.
This is Keepers Tour: Cobbled Classics. I've never had a flat on the cobbles, but I've seen it enough first-hand to attest to the above scenario. I also recognize that due to my hubris in mentioning the scenario, I will experience it firsthand this year.
Keepers Tour is back for 2015; based out of our Gite outside Lille, we'll be crushing cobbles and watching the best races of the year in dust-covered front-row seats. Roubaix, Flanders, Wevelgem, we ride them all. Roubaix, Flanders, Scheldeprijs, we watch them all. This is an amazing time of year to be a Cyclist, and it's the most magical time to be a Cyclist in Belgium. Our trip is 100% all-inclusive; get yourself to Lille and you will not need to spend a dime until you're back in Lille nine days later.
The provisional agenda is below. Changes will likely be made but the basic agenda of major events will stay intact. All-inclusive cost for the full 9-Day Keepers Tour: Cobbled Classics 2015 is €3,250. A 50% deposit will be collected in January, with the balance due upon arrival in Lille. Register on the Keepers Tour: Cobbled Classics 2015 event page.
Friday April 3rd: Pick up at Gare Lille Europe train station
Saturday April 4th: Paris Roubaix 100km discovery ride
Sunday April 5th: Spectate Ronde Van Vlaanderen Pro race at De Oude Kwaremont
Mon April 6th: 3h Flanders discovery ride + visit Jaegher Bicycles Workshop (and Malteni brewery-time permitting).
Tue April 7th: Morning visit National bicycle museum at Roeselare + 3h Gent Wevelgem ride
April 8th: Morning at Gent Velodrome + Scheldeprijs Pro Race
April 9th: Paris-Roubaix ride with the Pros 150km from Troisvilles to Roubaix
April 10th: Recovery ride around the gîte + AG2R Pro Team meeting
April 11th: Tour of Flanders ride + RVV Museum visit
April 12th: Spectate Paris-Roubaix Pro race at Troisvilles, Arenberg and Carrefour de l'Arbre. Drop off at Lille Rail station or hotel in the evening