Maglia Nera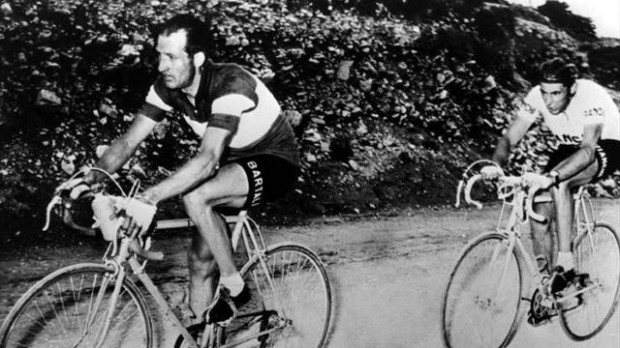 On our trip to Paris, my wife and I, in need of culture, rode the Vélib bikes to Cycles Laurent. This was our first French bike shop visit and excitement was high as we navigated our helmetless headed way through the city traffic. 
The shop is a classic; it's crammed with bikes and clothes. There is no room to move. My wife immediately dove into the sales bin and came up smiling with a Pinarello maglia nera jersey in her size. What is the maglia nera jersey? It's the lantern rouge of the Giro. For a brief period it was an officially awarded  jersey, which led to riders hiding in bars and behind hedges to finish last. Giovanni Pinarello was awarded it in 1951 and here it was reissued. Maybe Giovanni was hiding in bars or maybe he was just hanging on like grim death on every stage and barely made it to Milan. Giovanni Pinarello was the last official owner of the jersey. Riders and fans alike disapproved of a contest for last place and 1951 was the final year of the maglia nera. Since then, riders don't try to finish last but they do try to finish.
When asked by Cycle Sport magazine what he would like his epitaph to be, he said "Here lies Eros Poli, famous for being tall and coming last in the Giro d'Italia". -wikipedia
 This is a man who won an Olympic gold medal, a most incredible climber's stage in the Tour de France, and an amateur TTT world championship. 
Unless one is actively hiding in bars and riding with a calculator to always finish within thirty seconds of each days time limit, finishing last means one is barely finishing each mountain stage, tailed off the grupetto, fighting to beat the time limit, on more than a few days. 
When is finishing the Giro last not an embarrassment? I would say every time. There is a select subset of humans that could ride the Giro at the speeds it is ridden and finish it. Nearly every day a rider climbs into the team car, most likely in tears, exhausted, ruined, crushed. Their number comes off their jersey, it is reported to the commissar and that rider cannot start the next day. But there also must always be a rider who just barely makes it to the finish during those mountain stages, in tears, exhausted, crushed and is back out there the next day. To finish in Milan, even in last place must be infinitely better than not finishing. 
Finishing any event last is always better than not finishing.
If I was awarded that jersey, I'd wear that into every bar and restaurant for the rest of my natural life. That's right fools, I finished the Giro, d'Italia, we covered 3500 km at an average of 37 km per hour. I'll take my free vino rosso right over there, grazie.