Anatomy of a Photo: The Man with the Crystal Globes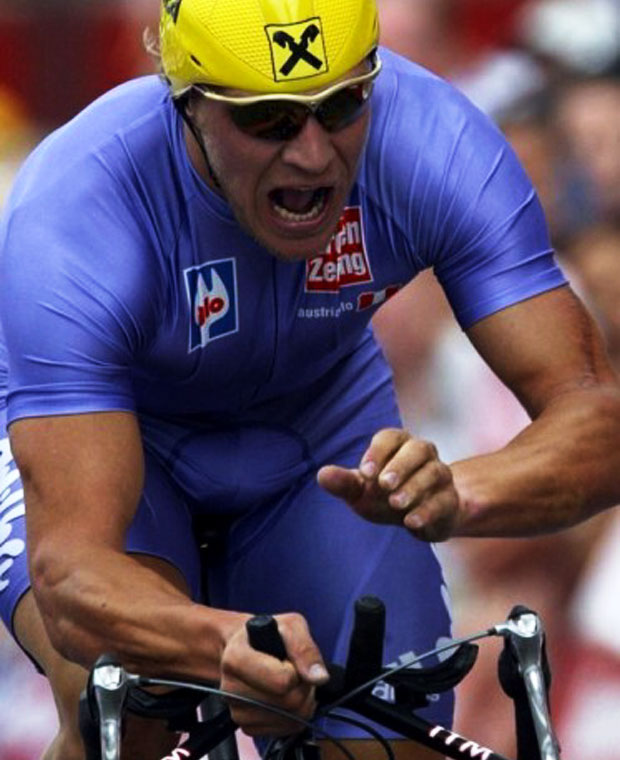 As a cycling fan, I find that it is easy to neglect some of the physiological particularities of our sport.  In my mind, Faboo and Jens are giants""not merely Giants of the Road, but enormous men with enormous legs and broad shoulders, quite literally ready to carry the weight of the team.  Typically, we see cycling's rouleurs only in comparison to each other, and so deep are my impressions of the imposing directors of the peloton that when I see them standing in all of their glory on the podium looking the picture of a 12-year old boy next to the high-heeled and (thankfully) be-skirted podium models, I am convinced that the organizers of Grand Tours have found and begun to exploit a tribe of beautiful Amazonian ogres somewhere deep in the forests of the Ardennes.
And then, you see photographs like this, and you remember that while these men are men, they are by and large small, freakish men by the standards of most modern athletes.
It's 2003, and the directors of the Tour de France invite a legend of the Streif to kick off La Grande Boucle.  Coming off a nearly year and a half of rehab after a motorcycle accident nearly cost him his leg, a trim Hermann Maier makes a mockery of the of the "harmonious integration of man and machine" that defines our sport.  The man sprinkles The V and nails on his Wheaties and motor oil in the morning, but he is a meatstick of a man built for downhill speed.  He seems to swallow the rear wheel between his ham-hock thighs, and his saddle has been lost somewhere in the vagaries of muscle and grundle.  With every pedal stroke, you can hear the bike scream for mercy, but with three Crystal Globes for the World Cup Overall in his pocket and one looming on the horizon in 2004, Hermann Maier doesn't make a living as a merciful man.  His stroke is smooth enough""it has to be, lest he cleave the bottom bracket in two""but he looks at any moment like he might simply break the bike in half like the wishbone of a strange flightless bird.
I was saying something about the men of the peloton?  Hardmen, indeed, but I'm pretty sure Maier's left forearm just ate Frank Schleck.
And so, in honor of the World Cup Opener in Soelden this weekend, I submit to you the Herminator, en bici.  At 1'18 out in a 6.5k time trial, he didn't exactly light the cycling world on fire, but to be 15% off of the world's best time trialers when there's 20% more of you than there is of them, well…chapeau.  For his next trick, the Man with the Crystal Globes plans a record-setting ski trip to the South Pole.  Which he will probably eat.