Bruyneel's Bad Year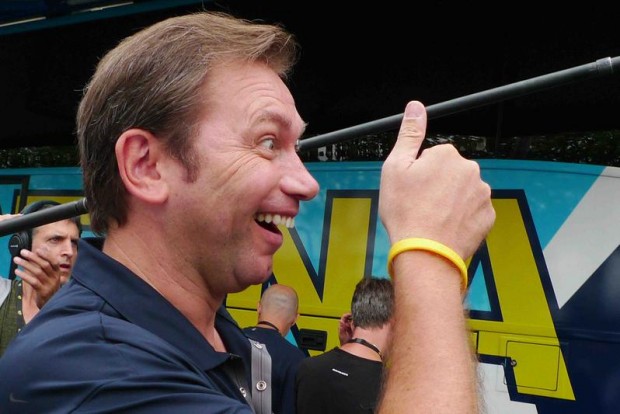 For most directors, winning Le Tour for the billionth time would make for a successful season, but not for Johan Bruyneel.  It turns out that dealing with the Kazakhi backers of Team Astana really put a stinker on his season.  Add that stress to the considerable logistics involved in buying off testing laboratories and bribing the anti-dope controllers, and you've got yourself a busy season.
In a recent interview with CyclingNews.com, Johan finally put a topper on what has been a soap opera-worthy season for cyclists worldwide.
First, there was the comback of Lance Armstrong.  Does anyone else remember him saying that when he retired he wasn't going to be like one of those other athletes who kept showing up at events after retirement?  I digress.  The Douchebag was back, and it turned out to be a challenge for Bruyneel due, in no small part, to Armstrong's crash in the early season.  Turns out that Lance was whiney and felt like quitting, but Johan stepped in and threw his own famous quote back in the Texan's face:
I had to force him: 'Lance, you have to. You can't go back now.' I had to send him one of his famous sayings: 'Pain is temporary, quitting lasts forever.' I didn't get a response, but he gave it a good think and pulled through.
Rationalizing the paradox of being ignored and listened to at the same time is pretty stressful stuff.
Much has been made of the team situation at Astana and the tension between Armstrong and Cuntador.  Alberto felt isolated, and maintains that he won the Tour largely on his own steam and without the help or support of his team.  That's a bit of a surprise, I'm sure, to the 7 guys on the team who controlled the race before 2km to go banner when the attacks came.  The quibbling culminated with Lance twittering that "there's no I in team".   This is what Bruyneel has to say on the matter:
He [Contador] continues to say that he won the Tour on his own. That is completely untrue: without the team he wouldn't have won the Tour that comfortably – maybe he would've won it, but still…
It will be interesting to see how Contador rides next year without the support of the most successful Director in Tour de France history.  Speaking of which, what is the real problem with Cuntador?  Apparently, it has to do with questioning the Belgian's leadership:
The problem was that whatever I decided – the race plan, the team tactics, the riders selection – he always expressed his doubts. We all have the experience: we don't make mistakes anymore; while Alberto still has much to learn.
One is to take what Johan says and like it, dammit!  Also, I am to glean from this comment that he has become an Honorary Dutchman and has thus stopped making mistakes.  Interesting move.  I wonder who authorized that.  I happen to be on the Awesomeness Panel and didn't see anything on the subject come through.
Finally, what of the Kazahki backers of the team?  What about those guys?  I guess they were the worst part of his season.  Unpaid salaries and general malfeasance permeated the season.   There was some friction over the direction of the team, it's image, and who should be on it:
I'm being judged on the results and the international image of the team, not on the image of the team in a godforsaken country such as Kazakhstan.
As a Dutchman reading a quote by a Belgian calling another country godforsaken, I have to ask, isn't this a bit of a "pot-kettle" situation?  Or was that Pot Belge?