Evanescent Riders Of The 90s: Bjarne Riis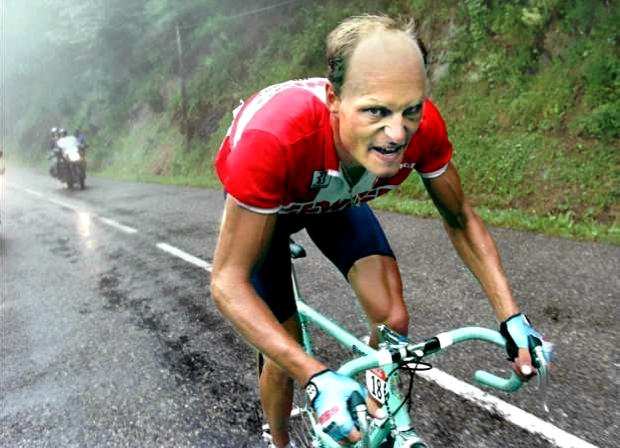 I know what you're thinking. How can one label Bjarne Riis an Evanescent Rider? He was a champion, he won the Tour, and went on to become one of the leading Directors Sportif in cycling. Yeah, well, just because he hung around long enough to get the right program and then jagged a job as a mentoring guru doesn't mean he never reached above and beyond his actual talent. He was a plodder, then a champion, then a plodder again. Maybe that's harsh, as he is the first of our Evanescent Riders who actually won the Tour.
Pretty much, Bjarne was a good, solid rider, strong but never really considered complete enough to be a Tour winner. Sound familiar? A domestique at Castorama and Ariostea, where he started to push a bit higher in the Tour GC, going from 107th in '91 to 5th in '93, 14th in '94 then 3rd in '95.  His '94 move to Gewiss was when things really started to look up for him (except in the hair department), coincidentally around the same time as Lance's training advisor got involved with the Italian team. Suddenly riders like Berzin and Ugrumov were 'coming from nowhere' and it seems Bjarne received some shit-hot training tips too.
"Here's my training advice; take this, this and two of these."
"Thank you, doctor."
"Oh, I'm not a doctor."
There's no real need to discect Bjarne's palmares, just go straight to Le Tour '96, where a shortened stage to Sestrieres saw him decimate the world's best in a way-too-short-to-decimate-any-field stage of just 46km. A few days later at Hautacam, scene of Big Mig's own race-winning exploits in previous years, Riis toyed with the Spaniard and the assembled throng of top-fuellers with a contempt that bordered on pure disrespect, such was his display of power and the ease with which he despatched his rivals one by one, or in bigger batches.
Of course, after the rise there must be a subsequent fall to cement qualification for Evanescence, and after starting Le Grande Bouclé in '97 as race favourite and leader of Telekom, he returned to from whence he came, consistently losing time to not only the opposition juicers but to his own young upstart teammate Jan Ullrich. The sight of Riis Millarcoptering his TT bike into a ditch signalled the impending demise of his racing career. He wouldn't show the same incredible form again, and after finishing the next two Tours 7th and 11th he retired at the end '98.
Following the lead of many former Pros who can't stay away from the scene, Riis became involved in management with CSC and then SaxoBank. Yet the ballsiest thing he's ever done on or off the bike is admit that he was juiced to the eyeballs when he won the Tour. Despite this admission 'Mr 60 percent' still has his name etched in the history books as a Tour winner. Which proves that it's ok to be evanescent just once.
The Riiscopter
[youtube]http://www.youtube.com/watch?v=DFzteK_y1b4[/youtube]
Playing on Hautacam
[youtube]http://www.youtube.com/watch?v=Og76z4kGMQU[/youtube]
[dmalbum path="/velominati.com/content/Photo Galleries/[email protected]/Riis/"/]