Guest Article: Twelve Months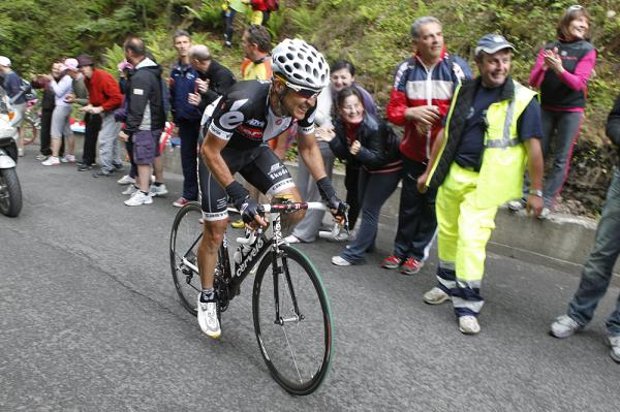 Jarvis has been with us for most of the last year, and throughout has dropped hints about a back injury that not only kept him off his bike, but laying flat on his back in the floor. On the anniversary of the accident that caused the injury and as we start to look towards and plan for the next season, Jarvis for the first time recalls for us what happened.
We've all gone through the anguish of being forced off our bikes, and have felt the impact as it ripples through to the rest of our lives; and we all know the struggle involved in getting back and finding your strength again. Jarvis' account beautifully describes the pain of the injury and time off the bike, punctuated by the delight of becoming a father and the spark of hope as his condition improves.
Yours in cycling, Frank
—
Early December: it's normally around this time that your average racing cyclist starts thinking about the new season. Intensity and distance of training are increased, early events are looked at and initial plans are made with a target to peak in a few months. Depending upon your attention to detail, you may well have planned every days training until the end of February. Those not of a racing disposition might start to look at the new pro cycling season, broken down into segments: Classics season, the Giro, Tour de France, August holidays, the Vuelta and the Worlds and end of season Classics.
December 2009 was no different for me. A slack and sick autumn had set me back a month or so with the training, but plans were set for the new year. A last chance to train and race before cycling life was extensively curtailed by the arrival of twins in mid-summer. Aim for a peak in spring and again two months later would see me through the year.
A year ago today, around lunch-time, I got out of my car, put my coat on and walked over to the pavement (sidewalk). My car, parked limply in the middle of a main road, was leaking fluid from the engine bay, the front-end having been stoved-in by a van turning across my path so suddenly that I didn't even have time to even brake.
Other than shock, a banging headache and loss of hearing, my main concerns were what impact any, as yet unknown, injury might have on my training. Still, when A&E sent me home with a neckbrace and some paracetamol, it didn't seem as if I'd be off the bike for too long. A week later a doctor told me I there was no reason I couldn't go back to work, so I figured that any problems would probably clear-up in a couple of weeks, maybe a month at most. Now it seemed that the worst it would be was that it would put the start of my, already delayed, training back a month, not the end of the world, I'd still peak by late-April.
By the start of the season and with the classics upon us I still hadn't turned a pedal. In early March I was cleared to ride my bike only to find that after a couple of 20km rides, I was in agony and was forced to put the bike away again. When Veino took his much-resented win at Liege-Bastogne-Liege and when I should have been peaking, I was still off the bike and awaiting the results of an MRI scan. Progress with my back was, literally, painfully slow.
It was at the end of May, just after the Giro had finished that I got some encouragement. I was catching up with the days procycling news and read that Carlos Sastre's participation in Tour de France was in doubt. He had finished the Giro d'Italia with a hernia of his L5/S1 disc and his ride in the Tour would depend on the outcome of his treatment and recovery. This was interesting news to me because a week earlier I had finally received the results of the MRI scan: I had a herniated L5/S1 disc. I reasoned that if Carlos Sastre had the same injury as me and was still aiming to ride the second-biggest event on cycling's calendar (after the worlds of course) a few weeks later, then I would, or at least could, recover. So I went to see a Sports Physio.
When the twins arrived, five days before the start of the Tour de France, I was still no closer to riding my bike. At least paternity leave and holiday entitlement meant I was able to subject them to the whole of the Tour, however all was not well. The stresses the twins had put on my body in their early weeks resulted in my spending most of August lying on the floor of the lounge. At this point, both myself, the physio and the consultant were resigned to the fact that I'd need surgery. But before that I'd need to see a surgeon and, unable to travel more than a few miles at a time, I'd have to wait several months before that could happen.
Although by September I was in slightly better shape, I was starting to wonder whether I'd end up missing the whole of the 2011 season as well. The next few months were all about waiting to see the surgeon and doing all I could to get fitter without the need for a knife. At the back of my mind I was also wrestling with The Fear that I might never ride a bike again. I was a cyclist, a Velominatus to the core, I rode bikes and a future without being able to ride a bike was a very scary thought.
By the the time Thor SMASHed his way to the Rainbow Jersey, I was seeing a gradual improvement and had been told by the physio that I needed to get on the turbo and start working the back harder. All I had to do was build a bike, a dilemna any Velominatus would relish. There was an element of need about it; my old bike was too short, especially for someone with a back injury, but it was also a distraction. To take my mind away from my injury I could swamp it in planning the build. I also had a couple of hardtail mountain bikes that with a knackered back I wouldn't be using again, so I swapped one for a new frame. Not that ever do anything other, but I knew I needed to do this build properly as there would come a day when I would be critiqued by the Velominati.
I'm now riding 20 minutes every other day on the turbo. Perhaps the new year will even see me out on the road. However I am still waiting to see a surgeon and if I need surgery it can mean three months of recovery, so I'm already thinking that 2011 is a write-off. Perhaps this December I should start planning 2012 instead.