How Dost Thou Annoy Me: Tour Favorites
I wanted to take a moment to talk about my favorite Tour Favorites.  And, the best way of doing that is to go over which of the Favorites annoy me or don't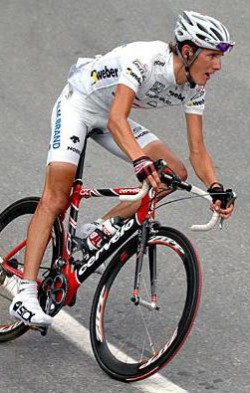 look cool enough or have never raced on Cervelos.  So, onto Frank's inaugural "How Dost Though Annoy Me" list.
Alberto Contador.  Primadonna.  I agree he is legitimately considered to be the best Grand Tour racer in the world, but if that's the case, why is he always bitching about other threats on his own team.  If he's the best, it shouldn't matter if he has other strong riders in his team.  That's Pro racing; if you don't like it, quit.  Or at least stop complaining.
Cadel Evans.  The Victim.  Looks like he hates his bicycle and is trying to kill it by mashing it to death in that huge gear.  He seems to always have some complaint about other riders and how they relate to why he lost.  For example, he felt he had to work alone to pull Carlos Sastre back at Alpe d'Huez last year when he was in a group consisting of tho of Satstre's teammates, Valverde, and Van de Velde.  The two teammates weren't about to chase, and as the 2nd-place rider on G.C., the responsibility to chase logically fell to him.  That's Pro racing; if you don't like it, quit.  Or at least stop complaining.  2007 was the same story, "What was I supposed to do?  I had two Discovery guys with me, they weren't going to chase."  And this year at La Fleche, when he attacked too early?  "Oh, gee, usually I hear that I don't attack enough."  That's true, but I suspect the people making this complaint were thinking more along the lines of "attack more, but tactically – not like you're an idiot."
Lance Armstrong.  Wanker.  I was actually a fan of his brash, no-excuses, cocky, all-or-nothing racing style, pre-cancer.  His attack in '94 on the Mur de Huy was a display of incredible power and tactical patience.  But the post-cancer, "I'm such a great guy but really I'm still a dick" Lance Armstrong is a different story.  Lets face it, this guy has some incredible accomplishments under his belt and if I was him I would race in the same uninteresting way, mostly because it makes the most sense from a tactical perspective.  But it's boring as hell to watch a guy win a time trial on stage 6, the first mountaintop finish on stage 10 and then just hold the gap to stage 21.  Watching him race these days is part intreigue and part horror – kind of like seeing an overwight hipster with their butt squeezing out the top of their skinny jeans: you don't want to see it but you can't stop yourself from looking.  I don't want him to take the Tour back to '05, but I have to admit I am watching his return with great interest.  I would have to lie if I said I wasn't anxious watching him race this morning.
Carlos Sastre.  Respect My Authoritah!  As a rider of an R3, he should be one of my favorites, and he was until the fall of 2008 when he started complaining that he wasn't given enough respect for winning the Tour.  Granted, any Tour won is an incredible accomplishment, but two other guys on his team could have won it, too, and the only other guy bitching about it more was Cadel Evans.  No disrespect, but the 2008 Tour left something to be desired in terms of the strength of the field.  To be fair, if I was writing this before the 2000 Tour, I'd say the same thing about the '99 race.
Levi Leipheimer.  The Whiner.  It's always something, with this guy.  Wind, or his gears, or his size, or bonking, or sucking, but when it comes down to the big races with the big pressure, this guy always has something to whine about.
Of anyone hoping for a top 5 finish, this pretty much leaves Kloden and the two Schlecks, who are all pretty cool.  Neither of the two Schlecks have ever done anything other than make The Sound of Awesome and Kloden was the only Telekom rider who publicly voiced his support for Ullrich when he was villainized in 2006 – and he lost his job for it.  That makes him "Aces" in my book.
So here's to the 2009 Tour.  After Stage 1, I think the Astana leadership is still very unresolved with 4 riders finishing in the top 10.  Furthermore, I am very happy with Kloden's race and with both the Schlecks.  I am officially putting my hopes on Andy Schleck for Paris.  Vive le Tour!