Paris-Roubaix 2013: Ride the Crown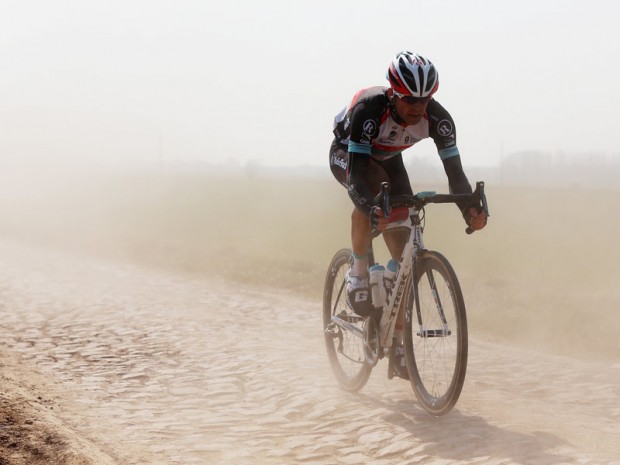 Was Paris-Roubaix the best of the Spring Classics in 2013? Milan-Sanremo was amazingly photogenic, Ronde van Vlaanderen was inevitable but Roubaix was just about perfect. We all prefer the wet and gray "This weather is good for us" Roubaix yet this race's drama transcended the fine spring day in the North of France. There is no better way to understand why they are pros and we are not as when one watches the leaders burn secteur after secteur in the 53 x 17. Humbling is not a strong enough word.
With fifty kilometers left to race it was obvious Cancellara was not in his usual soul crushing form. He was riding a few groups back and not even dominating his own little pack. It was not going to be the Double. He was just another mortal, with no teammates and a lot of young bucks looking to leave him in the dust…and yet.
After a massive match burning rage he was in the lead group of four along with Stybar, Vanmarke, Vandenbergh. Two of the four were Quick-Step teammates. They hammered away toward the end of the Carrefour secteur. Vanmarke and Vandenbergh both looked strong as hell. Had Fabian not bridged up with Stybar spinning for his life right behind, those two big lads were riding away.
When they exited Carrefour it was just Cancellara and Vanmarke.
The evil lady luck was there, not to be ignored. First tempting Vandenbergh to the right gutter, inches from the spectators. He wobbled and his front wheel clipped a civilian. He was on the stones. Zdenek Stybar, moments later spooked to the left gutter and spectators, maybe clipped out of his left pedal for a second. He stayed up but the elastic had snapped. Zednek needed a good draft to stay with those men and he had lost it.
I have many beautiful memories of this race. I know how to adapt to this race, and I like the challenges it poses from a technical point of view but you need the luck. Sometimes it's like an individual time trial though and along with luck you need to be smart. -F. Cancellara
Evil lady luck was in the gutters on Sunday. Always ride the crown.