Portrait of a Hardwoman: Nicole Cooke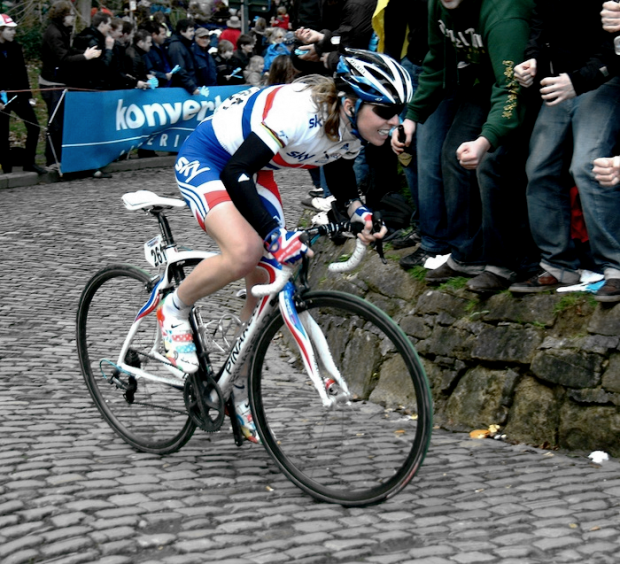 Cycling is hard; I'm not leaking any trade secrets with that statement, but it feels good to say it anyway. No Cyclist avoids suffering, but of those who venture into our world, there are some who seek to limit it while others choose to embrace it. Then we have a handful of characters who consider playing Whack-a-Mole with the Man with the Hammer to be good sport, particularly when playing the part of Mole.
In the current climate, it's impossible not to consider the impact doping has on our sport. I, for one, have happily watched professional bike racing and delighted in the spectacle for close to thirty years, aware to varying degrees that doping is part and parcel of that spectacle I enjoy so much. In the last decade, I've gone so far as to assume most – if not all – riders are doping; a regrettable situation but one which has done little to temper my enthusiasm for the sport. After all, when all the riders are doing it, then surely what we're watching is a level playing field of willing participants who understand how the game is played. Cheaters cheating cheaters hardly seems like cheating.
It's all beautifully romantic so long as all the riders are doping. This is not the case, however; there are those who are racing clean against dopers. These riders are truly being cheated out of a livelihood by a culture which not only turns a blind eye to cheating, but who ostracize those who don't. These riders who refuse to dope have few voices and last week, the sport lost one of the most forward of these with the retirement of Nicole Cooke.
Nicole has been a force in Women's Cycling since turning Pro in 2002. A powerful rouleur, she excelled in every terrain and in any race format, but was nigh unbeatable in uphill finishes, taking a total of three La Fléche Wallonne Féminine titles, each of which required such a large laying of The V that it brought her to collapse. I was aware of her as much as anyone can be with the state of the coverage of Women's Cycling, but she became one of my favorite riders after reading a piece in Rouleur about my favorite hub manufacturer, Royce. In the article, Royce's Cliff Polton described being at a trade show when a young girl better described as a ball of loosely-contained energy bounded up on his booth and started asking about bottom bracket axles and wondering aloud if he could help her achieve her goal of becoming the wolds most dominant female cyclist.
Given what I understand of her personality, I get the feeling it was more like executing a plan than achieving a goal.
Cooke raced at the top of her sport for thirteen years; she scaled the heights of achievement with wins in every major race on the calendar including the Ronde van Vlaanderen voor Vrouwen, La Fleche, the Giro d'Italia Femminile and Grand Boucle (women's Tour de France), the Olympic Road Race, and the World Championship Road Race. What's more, she accomplished it while remaining staunchly anti-doping to the point that she faced sackings for refusing doping products.
Anyone who is a fan of Cycling should read Nicole's retirement statement – I could never do it justice here. My personal hopes for the Pharmstrong Legacy is that it yields a a blood letting in the UCI and that the energy it spends on covering up its own corruption goes instead into promoting Women's Cycling.
I'm sad to see Nicole go. Yet, for a rider who thrived in the hardest conditions and who unyieldingly stuck to her principles, I find it very fitting that the final two wins of her career came in Stages V of the Giro Femminile and Energiewacht Tour, respectively. Bravo, Nicole.
Here is the finale of her last Giro stage win: