Six Days Of The Worlds – Defining Moments: Oscar Freire 1999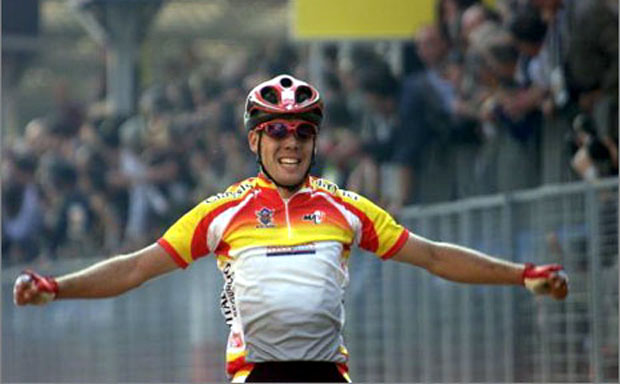 Verona, Italy, 1999.
You're 259 kms into the World Championship Road Race, and you find yourself in a select group of nine riders. You look around and see you are surrounded by a veritable who's who of the pro peloton.  Ullrich, Vandenbroucke, Zberg, Konyshev, Casagrande, Camenzind.  "Do these guys even know who I am, or even if I exist right now?" you think to yourself.  Probably not, they're too busy watching each other, because they know who each other are only too well.  Fools.
500 metres to go, you jump suddenly, violently from the back of the group, and as the favourites look dumbfounded and wonder what happened and who is going to chase, you quickly bulid up a gap. You are amazed, but relieved, grateful, exuberant as the gap proves big enough to take you all the way to the line, with time to throw your arms in the air and savour the moment that would elevate you from "Oscar who?" into one of the finest sprinters and one-day riders of the next decade.
You are Oscar Freire, and this will forever be your defining moment.
[youtube]http://www.youtube.com/watch?v=BMhdTVfQhYY[/youtube]