The Double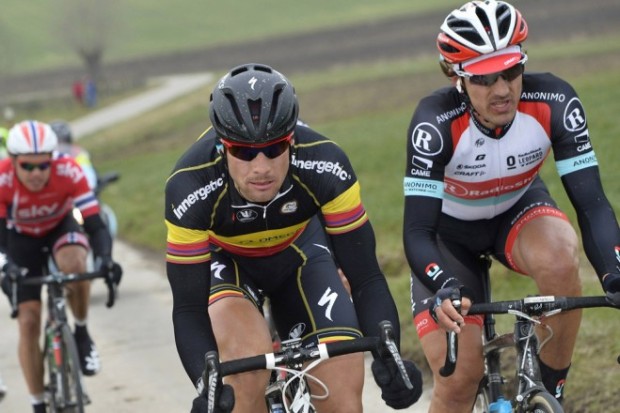 Winning one Monument in a career is more than most Pros will ever achieve. Winning two in a season, nearly impossible. Winning two a week apart, it has been done more than a few times, by only the toughest of men. The Ronde and Roubaix both have cobbles but that is about all they have in common. Roubaix might be the harder one to win. The evil Lady Luck lurks on the Roubaix course. Flats and crashes are more likely on the farm tracks of Northern France, helpful team cars can be minutes away. Granted, Miss Luck does like to install errant road furniture and roll loose bidons in feed zones in Ronde van Vlaanderen, and that is a cause for concern for some riders.
A paceline, drafting, hiding behind teammates all fall apart on the cobbled secteurs of Roubaix. The ability to hit the cobbled secteurs with the throttle jammed fully open again and again and again is what separates the beasts from everyone else. Speed on these stones is only sustainable by having huge power and a Roger De Vlaeminck ability to ride over the cobbles. It's like riding your bike through sand; only power keeps the bike moving forward. If you ease up, you don't go. Tom Boonen is the perfect example of power and ability and he has a mighty sprint. Who could even stay on his wheel to arrive in the velodrome for a sprint? Oh Tommy, you will be missed this year.
Historical perspective? I don't think so, not here, not now. Paris-Roubaix is coming on like a freight train. Fabian Cancellara is halfway to the double, again. And unless some Johan Vansummeren break gets away… how did Boonen do it last year? He didn't have to worry about towing everyone up the road, he just hauled ass, dropped everyone and rode away solo. That should work for Fabian. It doesn't work on the route into Sanremo but it will work on the way to Roubaix. No wee Simon Gerrans will be riding in his slipstream all the way to the velodrome.
Who you want to pick for second through fifth place in the VSP tomorrow is your business. This is a lock I'm telling you. Bet everything you have. That college tuition your Dad gave you to hand over to the bursar, double it down somewhere, this is easy money. This is the double.