There's a couple of 'roos loose in the top paddock…
What's going on in Cadel's head?  Maybe the intense heat of Spain has melted his synapses, which were already near breaking point, or perhaps it's just the realisation that he is never going to win a Grand Tour of any kind, not even the third-tier race he's currently gracing with his comedic ramblings.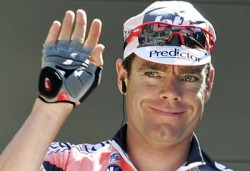 His latest routine is a corker, and had them rolling in the aisles.
After he took the leader's jersey (a form of yellow referred to as 'golden', yet just looks like a Maillot Jaune that hasn't been washed for three weeks) he lost his rag on the next stage at Robert Gesink, who he claimed chopped him off in the sprint for third place bonus seconds (which, of course, he lost).  After first allegedly headbutting, then lambasting Gesink and labelling him an "idiot" to the press, he eventually apologised a few days later.  Who looked like the idiot now?
Then, a couple of stages later, the punchline.  Last climb of the day.  The heat is on at the front. He gets a flat.  It happens to everyone at some time. But it's only Cadel who gets treated like shit.  Allegedly.  First he blamed the Shimano Neutral Service for giving him a wrong wheel (turns out it was right).  Then his own team director inexplicably stopped him to swap bikes, because they thought he'd gotten the wrong wheel too (nope).  By this time the media, team cars and public had conspired to block the road for poor Cadel.  More time lost, Vuelta over.  Yep, bad luck, to be sure, but how to react?
What would Lance do?  Get on the Twitter and vent from behind the safety of technology.
With a tirade that would make Serena Williams proud, Cadel let fly.   "After the BS I have been through just to get to this race, I am not so sure I deserved that. "A puncture in a crucial moment of the Vuelta I can handle. Useless neutral assistance and media blocking the road I really don't deserve.  "I don't deserve this.  I do everything right in the fucking sport and I don't deserve this shit."
What do you deserve, Cadel?  A few weeks relaxing in a nice 'holiday resort', I think.  Do some reading. Maybe play golf.  Yeah, golf is a nice, gentle sport.  You might even find you're good at it.
Who is your team sponsor?  Oh right, Silence (it's golden, even if you're jersey isn't).  Could be a not-so-subliminal message right there.