Championship Jerseys and the Rainbow Turd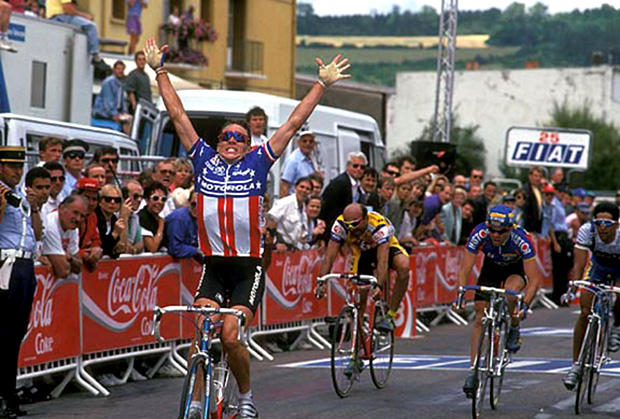 Mario Cipollini, if nothing else, did one crucial thing for cycling.  For better or worse, he turned cycling into a Business.  His business sense was light years ahead of the pro cycling culture.  He recognized that, by being both a dedicated professional a narcissist, you could make enourmous amounts of money – not only for yourself, but also for your team and your sponsors.  He realized that all you had to do was be willing to be a complete tool in the public's eye, and the naive world of cycling was yours for the taking.
He would smoke cigarettes during races, dress up as Ceasar on the podium, and wear Spinal Tap-inspired anatomically-correct kits during races.  On top of all that, he would win races.  A lot of them. His most radical move was to pioneer the fully color-coordinated kit/bike ensemble.   He was the first rider to appear on the start line as Maillot Jaune of the Tour wearing yellow jersey, bibs, socks, gloves, helmet, shades, and riding a yellow Cannonwhale.  A Stroke of Genius.  These days, anyone who is anyone wears such an atrocity; when he did it, the UCI fined him for wearing a nonconforming kit.
When he showed up dressed like a giant banana, it was the three-week Tour de France.  That's one thing; we're talking about three weeks  max if you lead from start to finish.  What about a kit you wear for an entire calendar year?  When he became World Champion he followed the Natural Trajectory of Douche and adorned himself in a fully rainbow-striped kit.  White shorts with rainbows. Marko, who was then just getting into cycling, was at our house when Mario sped to his 41st Giro stage win and asked the very relevant question, "Who's the Rainbow Turd that just won?"
He cut right to the core of the matter: matching your shit makes you look like a turd.
Showmanship is one thing, but matching shorts to jerseys is so Doping-Era. This is 2009 and everyone knows we are pretending to be a drug-free sport. These days, we have cyclists who wear rub-on tattoos that say, "I'm Doping Free."  That means black shorts, just like the last time we pretended to be drug-free: the 1960's through 1990's.
One of the coolest national champion jerseys is that of the US Professional Road Champion.  All the European champs roll in the classic tricolore (incidentally, the Dutch Tricolore is my personal road jersey of choice, but that's only because I'm Awesome).  The Ausi jersey is cool, but follows the same basic motif of horizontal bands of color.  Same goes for Russia and Germany.
The Stars and Stipes jersey is the only one that I care about that stands sharply apart from the others.  Blue shoulders adorned with stars, with a torso of vertical red and white stripes.  The only problem is that American riders have completely lost site of the Coolness Quotient brought on by this jersey.  George Hincapie rocked a killer Captain America in 1998 but lost sight of the jersey when he became Champ again in 2006 and pulled on the ugliest US jersey until Tyler Hamilton won in 2008 and wore the ugliest US Pro Champion's Jersey ever (which, no doubt, led to his use of anit-depressants).  Hincapie won again this year and has been spotted wearing it with white shorts.
Though being a Lance non-fan, I do have to say that he got shorts and jerseys right: whether he was World Champion, National Champion, or Race Leader.  He may have been a dick, but he never changed his shorts.
For my taste, the coolest riders are the ones who wear their awesome National and World Champion or Race Leader Jerseys with their standard team kit – which preferably consists of  black shorts with stenciled-on lettering of their primary sponsor.