Reverence: Campagnolo Quick-Release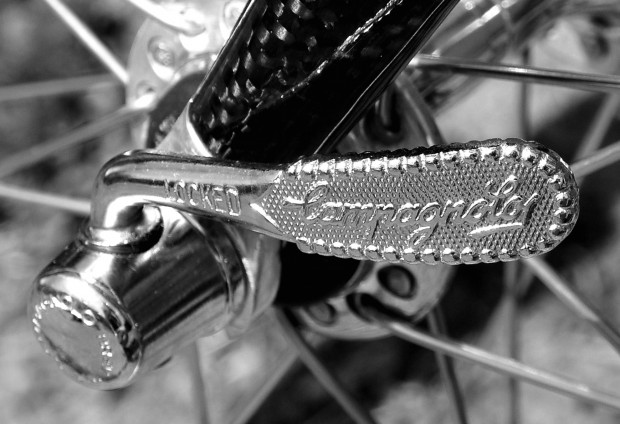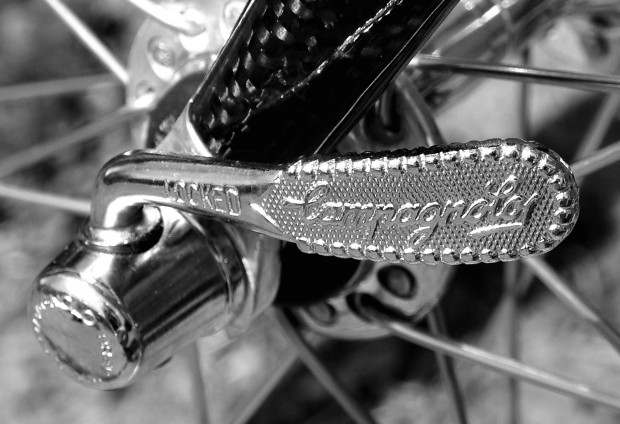 Tullio Campagnolo, an amateur racing cyclist, was racing on a classic Rule #9 day in Italy. The weather was cold, and I believe he was racing in the mountains. Riding with the leaders, I can almost feel in the pit of my stomach the dread that must have crept over him as he realized he wouldn't be able to change gear. At the time, wheels used a flip gear to allow for changing of gear, and were fixed in place with wing-nuts which made it easy to remove the rear wheel – assuming everything was well greased, nothing was dirty or frozen, and the rider had just taken a refreshing shower. Which happened to not be the case on this particular day, as he had the misfortune of actually riding his bike.
It almost goes without saying that his frozen fingers were unable to loosen the frozen wing-nuts. And here is where Tullio distinguishes himself from people like me; whereas I would have chucked a Millarcopter you could see from the International Space Station, Tullio made the slightly more productive move of inventing perhaps the most sensible component on our bicycles: the quick-release.
There is no component a Velominatus can own that speaks more clearly to the history of our sport than a Campagnlogo Quick-Release. Bearing that in mind, it's a shameful thing that I, a self-proclaimed Velominatus, have never owned one. Until a few months ago, that is, shortly after procuring my Record hubs, when I finally got my hands on a set.
And I have to say, they don't disappoint. They're not the lightest skewers in existence, but they do have a beautifully solid feeling when opening and closing them, and they grip amazingly true to the Campagnolo dropouts on my steel frame. The arc of the lever defies description; on the front it hugs the fork and tucks neatly behind it while on the back it bisects the angle of the chain and seat stays in perfect Rule #41 compliance. It is a sight to behold. In fact, it's a little bit dangerous because I should spend less time staring at them when I'm riding and more time starting at the road.
Grazie, Signore Campagnolo.