Reverence: Campagnolo Tools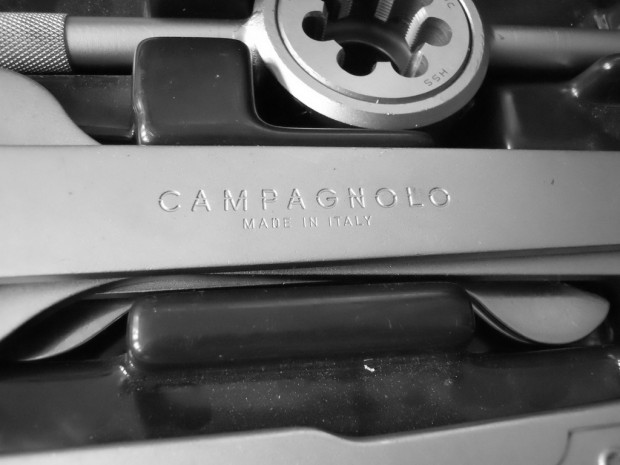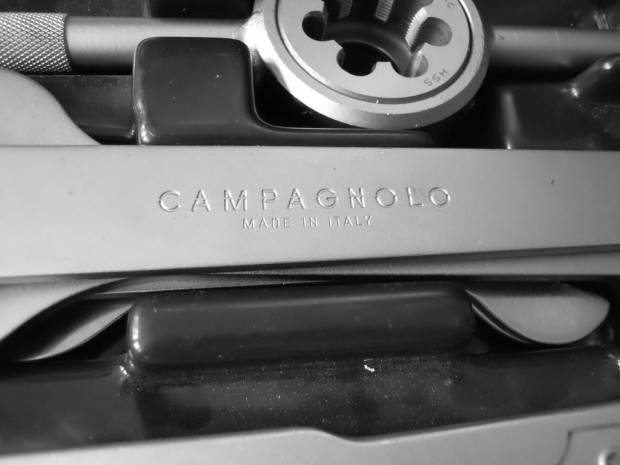 Exposure to religion in my youth was by way of a brief dose of sunday school at the local Unitarian church. The point there, evidently, was to learn about other religions and turtles. If a point was being made, I missed it. When Catholic friends of mine came over for the weekend I would accompany them to the closest Catholic church and we would endure the mass together, the experience leaving us just as clueless as the moment before we walked in.
A girlfriend of @Rob briefly worked for the English bike company Raleigh in Boston, Massachusetts. These were the Jan Raas, Didi Thurau, Ti-Raleigh years, where Raleigh made beautiful bikes and their team was one of the dreadnaughts of professional cycling. I was visiting this friend at the Raleigh offices, which to my eyes seemed like any other office: fluorescent lighting, linoleum tiled floors, men in coats and ties. It was uncontaminated by bicycles or red and yellow  kits. This place was not cool. My friend ushered me into a nondescript room, pulled out an enormous sliding drawer and showed me something she knew was cool.
In this sliding drawer was a complete set of Campagnolo bike tools, all set in blue foam cut outs, each tool nestled in its perfectly shaped place. I didn't fall to my knees but I must have gasped. Each tool was a work of art: form and function in unison. Each tool designed for a specific task in the wedding of components to frame. The tools had a uniform silver finish. There were facing and chasing tools with beautifully milled cutting teeth of high speed steel. I'm serious about reverence here. I had never seen anything like this. The seeds to my Italophile religion were sown. I was already a devout fan of the components but did the tools have to look this fantastic? What did this say about a company? To me it said-these tools are designed and made to make sure Campagnolo components work perfectly on any frame. What goes into the tools goes into everything else. The passion, the design, the tools and the components are one. Perhaps the intention was never there to make cool looking tools, maybe it was just a by-product of making cool looking components. What else could they do?
I had found my religion. I never needed the complete tool set, I was never a professional bike mechanic. I do own a few civilian Campa tools: some cone wrenches, the peanut butter wrench, a T-handle wrench, a 10-speed chain tool. These are beautiful tools. Park makes functional tools, no one would say they are beautiful. Why make a functional tool beautiful? Is a beautiful tool a better tool? It is when one is making a living wielding them. Pride in your tools reflects pride in your work.
I was going to write that those days are over, adding beauty adds cost and the bottom line is everything now. Then I remembered my Lezyne pedal wrench. It is functional as it removes pedals without impaling knuckles onto greasy chainrings (and opens beer bottles) but it is beautiful because it has a wide smooth machined aluminum handle bolted onto the body of the wrench. It lacks the refined industrial design of a Campagnolo tool but it is beautiful in its own way.
[dmalbum path="/velominati.com/content/Photo Galleries/[email protected]/campy tools/"/]