Portland Cogal v1.1 Post Ride Report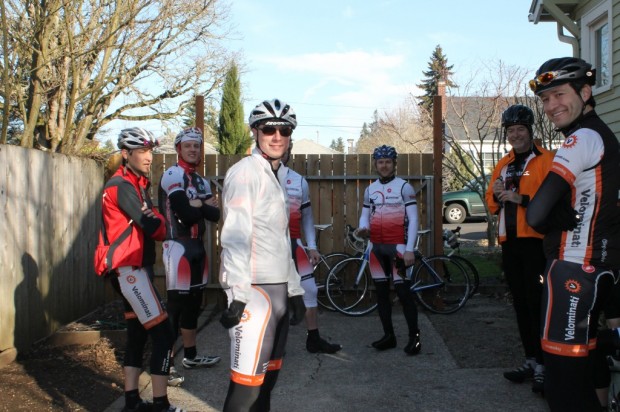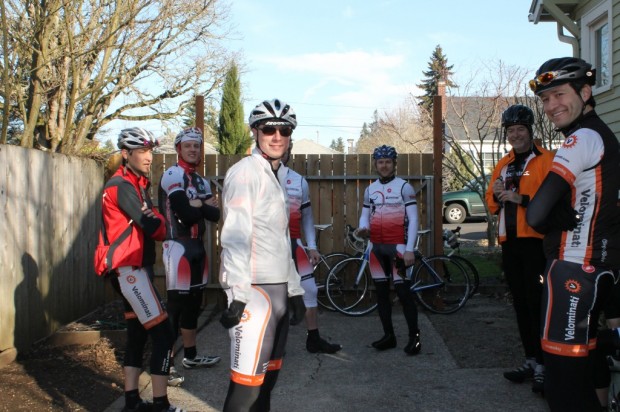 "My teeth are famous!" exclaimed Fränk while Mrs. Scaler was running around with her shiny new camera, documenting the day. This happened quite a few post ride hoppy beverages into the evening after the Portland Cogal.
But let me back up a bit. As most here know, Saturday was the first Velominati Portland Cogal. From the proper VM we had myself, gaswepass, McSqueek, G'rilla, Co Mo, and Sir Fränk. I also invited some friends from my team and a couple other teams. In all we had 14 guys leaving my house.
Scaler911's Take
As it turned out, weather wise it was not going to be a Rule #9 day at all. Forecast called for sunny skies and 12C. Local meteorologists also promised lighter winds in the am out of the east at around 22-24Kph. Well, they got the first two parts right. As we rolled east through Vantucky, WA toward the crossing over the Columbia River, we already noticed a headwind. When we left the relative shelter of homes and trees and rode onto the exposed Glen Jackson Bridge we were met by a serious cross wind. Fränk looked at me and shouted, "Holy Shit!". Once on Marine Drive we headed east bound toward the "Wind Tunnel" where the Columbia River Gorge terminates. 14 guys, all pointing somewhere between "fit" and "fucking strong" on the Rad Meter, and we were only averaging around 25-26Kph. Being on the rivet was a ton of work. Near Troutdale (and the shelter of the Sandy River and Historic Columbia River Highway) online weather data for the day stated wind speed to be sustained 48-50Kph with gusts to 67Kph. Right before the sanctuary, the road turns south, and I watched people in front of me going straight forward but leaning to the left 50-60 degrees. Thoughts thrown around the group were: "Fuckin' Hell", "Nuking", "I can't hear out of my left ear".
Once on the Sandy River the wind stopped, and the pace went up. At the first regroup, we were two riders short. I knew that now as the road was going uphill, the group was going to be three short. I'd been fighting a nasty cough all week and the lungs were on fire from the first short, low grade climb. We started up again, and as I drifted back, teammates would give me a push on the ass. Wasn't long before I lost contact, but I knew a serious downhill was coming and I could get back some time. Then a rear flat at the bottom of the 75+Kph decent. I was alone and feeling pretty shitty. I fixed the flat in short order, and went on to the big climbs. The first climb is pretty tough when you're well. I was pretty deep in the hurt locker when Fränk and my teammates came back to find me.
We started up the second big climb, my team away, Fränk at my side. "You fucking asshole" he says with a smile on his face, "I had no idea how fucking hard these climbs were going to be". On the last climb into the town of Sandy, Oregon I was pretty sure I was going to die. Given how the lungs felt, and coughing up green ick, I did the unspeakable, and called in the sag wagon. Rest of the group, knowing I was throwing in the towel, headed off toward home, at what was reported to be a blistering pace, the head wind now at their backs. They spent a good deal of time at 48Kph. That had to be fun and quite a sight.
Once back at the house, Mrs. Scaler and her friend had the BBQ going, a fire in our outdoor fireplace, and cases of hoppy beverages -some quality, some plebeian- in the coolers. The more we re-hydrated, the better things got. Topics of discussion ranged from all things cycling, to politics, to Fränk's fabulous teeth. It was a lovely evening.
It was an honor and a privilege to host this event, and I feel like I've made new friends that I will continue to see and ride with in the future. Often.
Thank you to all who came; Thank you to Fränk and G'rilla for being fantastic guests and a huge thank you to Carrie and Mrs. Scaler without who's help, this would have been impossible!
And, I found out two days later that I had pneumonia. Meh.
– scaler911
Frank's Take:
"I'm glad you're not a fat chick with a mustache, dude." In retrospect, I'm glad I didn't come in last place, but nevertheless, @Scaler911's comparison of me to his previous Internet meeting left something to be desired in terms of "glory".
It's always strange meeting people from the virtual world; you never really know what to expect, given the likelihood that they don't look like their avatars. But things kicked off to a fun and relaxed atmosphere almost instantly as I yanked @G'rilla's bike out of the truck and set about poking fun at the way he wrapped his bars. @Scaler911 jumped right in and I immediately knew we'd get along fine. The three of us cracked a few beers, and headed to the workshop for a bar-wrapping lesson.
Not long after, Mrs. @Scaler911 appeared in the doorway and, after introductions, asked me what I like for breakfast. Wishing to put her at her ease using "humor", I said, "You know, the usual. Crepes, hand-squeezed orange juice, freshly laid eggs…" Little did I know at the time, Mrs. S is an incredible hostess and that is precisely what I got for breakfast.
I'm one who trains alone most of the time, and what group rides I've been on are generally pretty mellow. Aside from the flawless hosting, route-planning, and post-ride party, I have to say that this was one of the hardest and most enjoyable group rides I've been on in ages. The climbing was brutally hard and the wind ferocious, but after spending a few hours riding as a group, we got pretty good at flying along together once the wind was at our back.
Riding with a V-Meter means I don't know how fast I'm going most of the time (other than that I'm going Vkph), but there is little that will make you feel quite as Pro as sitting in a paceline, spinning out your top gear on the flats and sprinting for town lines whose location you have no clue of. Talk about Herd Mentality; some of the faster riders would jump and I'd just chase my lanky ass after them with a big, stoopid grin on my face.
Thanks to everyone for their kindness and hospitality, to both teams who welcomed us into their ride, and a special big thanks to the impeccable hosting of Mrs. Scaler911.
Vive la Vie Velominatus.
Trivia question: We were delayed in our departure on Sunday morning as we waited for G'rilla's pants to be laundered after being urinated on. Who's urine was it? (Hint: it wasn't mine, it wasn't @Scaler911's, and it wasn't G'rilla's.)
– frank
McSqueek's Take:
It seems like some of the hardest rides I go on start with an email from @scaler911. Rides up hills that make me feel that I am going to be forced to re-experience what I had for breakfast, but in reverse. Rides long enough that I wish I had eaten MORE breakfast.
I should have known the unseasonably clear skies and mild temperatures would hide something entirely more sinister. Like constant 50 KPH winds.
All melodramatic flourishes aside, the second North American Cogal shaped up to be an quite an experience for those involved.
Even those that didn't finish.
Like myself.
Now, how in the hell does the co-organizer of the cogal not finish the cogal?
Easy. They (read: me) get literally blown out of the bunch by wind about 28 km into the 130 km ride. Wind so strong that you'd swear both your tires had just flatted, and it's all you can do as you watch the bunch ride off without you.
"No worries" I tell myself, "I know the route. I'll just catch up to everyone in Sandy. We're about to the hilly section; I would have fallen off at some point soon no matter what."
Boy, I'm a cocky bastard. Turns out the "hilly section" includes 1,000m of climbing, with many sections a few degrees steeper than what I'm comfortable with, kicking me squarely in the junk early and often. Switchbacks which yield more climbing and descents that offer just a tease of a reprise before snapping back into another climb.
I remember thinking to myself at several points along the route, "map my ride is a fucking liar", as if map my ride was an actual person who purposely mislead me about the severity of the hills.
Cursing at map my ride, cursing the wind, cursing at the road, all was a common theme during my two hours alone in the hills. I didn't have anyone else (read: @scaler911) to curse so those had to make do.
Finally after about all the climbing I could take this early in the season, I reached Sandy. PERFECT. I'll grab a coke, have a bite, and be on the way with the guys after a rest.
Only I had arrived 30 minutes after the bunch had left, with only scaler911 waiting. Unbeknownst to him, he had the early stages of pneumonia and was experiencing breathing difficulties, necessitating a call for a ride.
In a moment of weakness, after considering another two hours of riding on my own after spending the previous two hours alone in the hills, decided to wait with scaler and just catch a ride back to the end.
Not my proudest moment, and I spent quite a while feeling like I let myself down rather than pulling a HTFU and finishing the ride. But I had made it through the hardest part, with only another 200m of elevation to be gained over the next 60km.
And there was beer and burgers waiting back at the end – so stick a fork in me, I was done.
I will however be back for a rematch with the same route later this spring. It shall not get the best of me.
– McSqueek
G'rilla's Take:
I looked forward to the PDX Cogal with anticipation and fear. Anticipation because it's always great to ride with other Velominati, and fear because I bonked in the last 20km of my previous 120km ride at the beginning of January.
The weather was unseasonably beautiful. It featured every kind of terrain: flat roads into strong headwinds, rivers, steep hills, and mossy forests. Near the town of Sandy we looked out on a forested valley split by a cold river running out to a snow covered Mt. Hood. It was a moment to be lost in time; no photograph could capture the feeling.
The crew was top notch. I love the thrill of descending at 80km/h with 12 riders snaking a line down the mountainside. I met Joshua Liberles, editor of Cyclocross Magazine and the best all-around rider in Oregon last year. People kept a quick pace into the day's five climbs and we hitched onto a tailwind to sustain 45-50km/h for the last hour.
To top it off, Scaler911 hosted a BBQ that went into the wee hours of the morning with stories of races, crashes, victories, and many laughs.
Overall, this was one of the most difficult and most thrilling rides I've been on. It's definitely one I'll remember for a long time.
– G'rilla
Gaswepass' Take:
What an awesome weekend! "Riding" the wave of the big Velominati event – @Cyclops presenting Frank his new frame and all the fanfare that created – the energy levels were high! In a confluence of unusual circumstances, I was able to meet the boys the night before at a local, well loved bike themed brew pub for some casked ipa. Things were off to a promising start for the weekend: great beers, the sun was planning on sticking around- especially important with this route known for epic scenery, our out of town guests were trying to blend in with the locals by reducing their carbon footprint post beer consumption with wing tips on(the brew pub has 2 outdoor exercycles for electricity generation!), and everyone appeared to be stoked. Even my race bike was giddy with anticipation.
Then Saturday morning hit and hit hard. I woke up late with a neck twinge the likes of which I hadn't encountered since having a small herniated disc 5 years ago. Disorganization struck- did I pack my road shoes? Did I inflate the tires last nite? Oh crap, gotta get rolling! … I pick up a friend who is also my coach, we make it with just enough time to change, be part of a picture or 2, and hear the tail end of casual deliberateness, no-drop and blah blah cell phones and safety…
100V, time to roll, bitch!
Away we go, didn't inflate despite bringing floor pump. Oh well. The wind is kicking up. Getting twinges of that feeling of showing up for the big test feeling prepared and realizing that maybe it's on a different chapter than the one I read; my version of pre-test and pre-race jitters. Is there a bathroom on this route, ugh, I need it now! Alright, serenity now. And we haven't hit the Columbia river yet. Everyone- teammates, colleagues, our visitors from the North, and a couple other visitors looking revved! The energy is contagious, and the sun is just amplifying all the positive energy- lets go riding boys! The ride on the bridge over the Columbia river is an exhilarating start to the day- a significant crosswind is buffeting us, and with a reasonable amount of opposite traffic, there is no tucking to be had. Unfortunately we lost one pretty early on, but as described elsewhere, he made a day of it in the sun, not to be denied the glory of riding in these challenging conditions!
We head east on marine drive. The wind is an oncoming freight train- loud, powerful, unrelenting. Tucking in is marginally of benefit, or so I thought. Then I find myself pulling next to @scaler911. How'd that happen? We got >110km to go and here I am pulling, and it's brutal! Why doesn't the garmin give a bonus point or something for that kind of effort? It only recognizes (or so I thought, more on that later) grade and rate of motion. Finally, I get a chance to pull off, um, gracefully and let some of the ringers take the front. I don't want to slow down the pack by pulling again (burning too many matches early), can't be too close to the front or risk interfering the progression of pulling the paceline, but if you go low profile and safely tuck-in, that first signpost sprint "snap" leaves you off the back, working 50% harder with 60% less motor. Dude.
We make it to the next transition- out of the wind tunnel and hill-climbing ho! Time to take on some protein, one of those space food thingies. As I was warned, it rapidly "thickens" in my mouth after 2 crunches and then partially dissolving; this means I am now eating coffee flavored paste and those bastards are starting to accelerate (oh yeah, the guy said don't eat one of these at the beginning of an effort) in to the subtle hill. I needed just 3 more minutes to clear my palate and digest this crap, but I can't breathe because its now like that scene in The Matrix "Mr. Anderson, what would you do if u couldn't talk…" Some fluids, a chisel to my back teeth (was that space food or laffy taffy?) and back to now just cramping from that weird shit. I've already forgotten about the flattening tires, my neck is just plain annoying in the background, and I'm sliding forward – is my seat doing something weird (tonite I'm going to be acknowledged by my 'cross team for finishing 9 of 11 races on my pit bike)? 2 more soldiers are fading away – a colleague and ever positive @McSqueek. Now there is no lack of clarity who is pulling up the rear of the pack, also known as my individual time trial. And now my "specialty" – sustained climbing – is going to make us declare the riders that we are. I don't think I've seen Frank or @G'rilla for 20 minutes. Or anyone else, for that matter.
The climbing starts as a roller or 2 (my heft does allow for collecting some additional speed at the bottom of the descent, but what goes down doesn't always want to come back up…), and then its just ON. My vision has been reduced to pavement 5 feet ahead of me or glancing at that damn garmin device (I hadn't known that it made sound effects, but it's designed to laugh when one is climbing @ 6kph). Thank Merckx I hadn't remembered the chest strap- registering 200bpm while it's laughing probably woulda fried the circuit! I then started thinking about the app on Scaler's iphone- the JVA app that allows one to hit a button to hear "shut up legs!" with that fine accent. As the climb wraps up, I find out scaler has flatted and the boys have doubled back (and looking awfully fresh, bastards!) to check on him. I collapse at the end of the climb, alone. Rapidly getting cold, stiffening. They've been gone a while now, I'm beginning to wonder if I missed the communiqué that we are just going to double back or something even more sadistic since the climb was "soooo easy, its so nice and sunny, let's go climb more!" I'm tempted to whip out the phone and text/call someone, but that means removing my soaked full fingered glove which is densely adherent, knowing it'll never go back on today. WTF.
The really funny thing about being the last one in the pack is the extra rest the strong get waiting for you at the end of climbs. Today, they went and worked more, and I collected myself. I think I got bitten by some radioactive bug or maybe the epo and steak diet has finally worked out. We take off as a group, and the punishment of the hills is gone. I'm cranking the rollers- punching uphill with the big boys, pulling occasionally on the flats with comfort, never so far gone as to be feeling cracked. Then the glory of the wind tunnel in reverse. After riding 4 hours, we are effortlessly frickin flying at 40-50kmph as if we were just warming up on a downhill. Is this what PRO fucken feels like? 2 of us (that would be me and a teammate) set the strava benchmark for that segment (but no KOM as someone musta had their garmin on in their car- @80kph)!
Now, a small potential bone of contention. I'll be the first to admit that at least internally, I'm a fiercely competitive soul- why else the hell would I be here, right? Admittedly, way, way outclassed and outgunned this glorious day (and we won't even talk about my rule violations because this is my story, dammit!), which wasn't a race or even set up as a competitive ride. I never contested successfully one of the signs. But I am declaring myself the winner, sort of. The rule was never decided as to the "finish line," but I did seize Scaler's patio door first, which is good enough for me. Frank did declare with a mile to go that no one was going to stop this Dutchman from getting the first beer. That mighta been true. I couldn't think or even see straight when I first walked into the party atmosphere. But is that important?
-gaswepass
[dmalbum path="/velominati.com/content/Photo Galleries/[email protected]/Portland Cogal v1.1/"/]