Point of Contact: Bont Vaypor+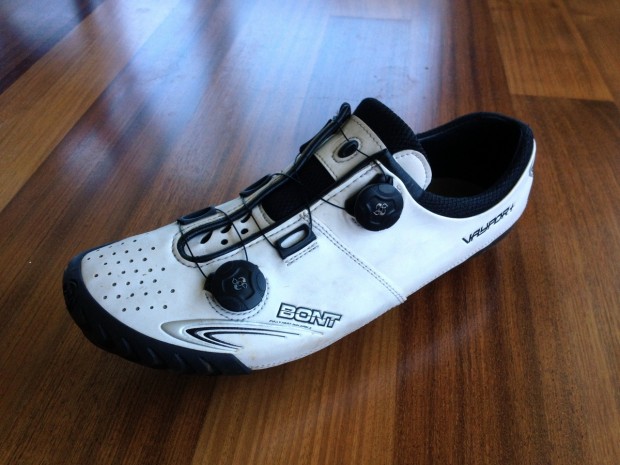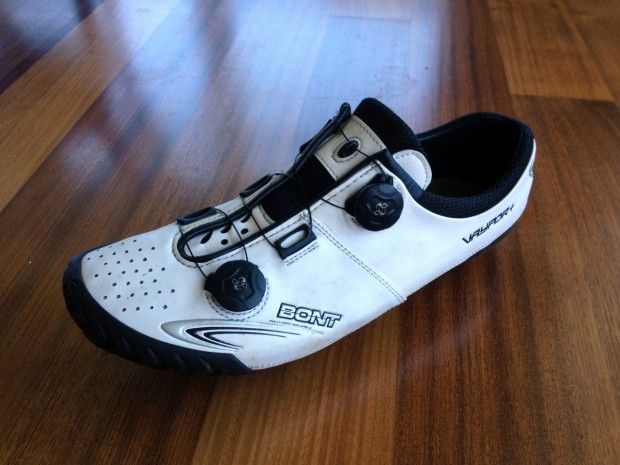 If Rouler does not do reviews, we don't do reviews. Think of this as a commentary on Bont's Vaypor+ road shoe. Any discussion of points-of-contact will generate a storm of comments ending in why Sidi shoes and Fizik saddles are the best. They may be the best for you but not for me. Everyone's feet and everyone's butt has different needs.
I bring up form versus function too often here and being a user of SMP saddles and now Bont shoes I'm obviously way over there on the function-over-form end of the spectrum. Bont shoes are not as weird looking as SMP saddles are but visually both of these immediately tell you that these point-of-contact designs are different.
Frank is a big fan of Bont and he landed me a free pair with no discussion of a quid pro quo of anything for Bont. The timing was good as I had forked over some money for the second generation of Fizik R3 shoes. These were lighter and cooler, as advertised, but also more narrow and with less arch support, not advertised. Luckily, I collect aftermarket insoles like I collect base layers so I could overcome the lack of arch support but long into a ride my toes would remind me why these new Fizik shoes were trouble.
The two things I like the most about Bonts are the roomier forefoot and the well engineered arch support. Toes can roam unfettered in this shoe. This is a revelation for a person who has always erred toward the very snug fitting cycling shoe. The moldable carbon rim surrounds the whole foot, resulting in a well secured fit that does not hassle the toes. My new Bonts fit nicely right out of the box. I did one heating and minor remolding of one shoe rim, but the option of potentially accommodating a person's bunions, bone spurs or freakishly long toes (Marko) is appealing.
If a foot's arch collapses under load the tibia rotates and becomes potentially injurious to the knee. Believe me, having spent too much time riding in front of a mirror testing out custom orthodics, shims and wedges; getting the foot, knee and leg aligned can be important, expensive and tedious. If the arch is truly well supported it prevents the rotation and misalignment. I immediately ditched my expensive custom orthodics because they were correcting what the Bonts were already designed to prevent. Sometimes standing in shoes with good arch support feels like too much support, like standing in a well fitting kit feels weird until actually on the bike and in the position the kit was designed to be in.
The Vaypor+ is a redesign of the Vaypor model with a boa lacing system instead of the velcro and buckle. I would say the tongue on the Vaypor+ could use some redesign. It's padded and pliable so when the boa wires are constricted, the tongue squishes together instead of sliding under the uppers, so getting the perfect tension on these shoes is compromised. That is my only complaint. I'm a big fan of the boa lacing but this set up needs improvement, in my opinion.
These shoes are expensive but to date, with almost a year of riding, they look to be indestructible. True, our dog has not her way with them yet and she had better not but I am very impressed with the materials, design and construction.
The true point-of-contact test is the long day out. The imperfections and incompatibilities will be discovered 100 kms into it. If I don't think much about my feet in my shoes, my butt on the saddle or my hands on the bars, it's a good sign. All I'm saying is, if your present shoes are not passing this test, Bonts are a very good shoe to try next. My advice it so find a retailer to make sure you get exactly the shoe size you need. Buying cycling shoes online is rubbish.
I've paired my Bonts up with some heat moldable insoles from yoursole. They are thin, firm and have good arch support.