The Giants of the Road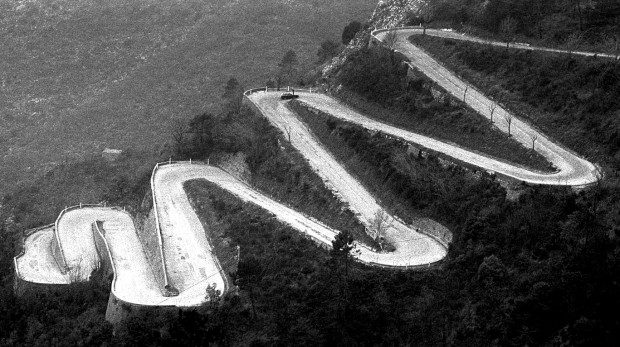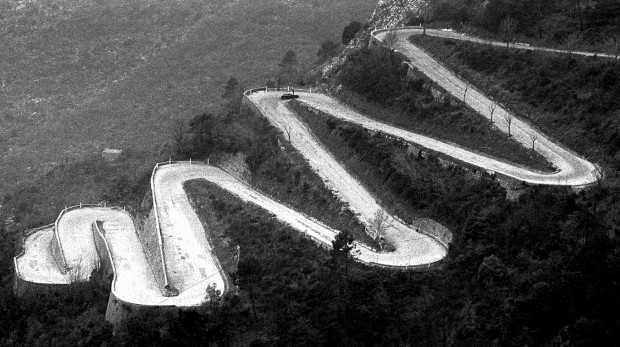 Those who complete the Tour de France are referred to as The Giants of the Road, and a look back at the first week of the Tour doesn't leave much room for wondering why.  With barely ten stages behind us, we've seen some amazing battles.  We've seen Pharmstrong take a small psychological win over Contodor in the opening Prologue.  We've seen Cavendouche start his Green Jersey quest by missing a turn in the closing kilometers of Stage 1 and crashing. We've seen nearly the whole bunch crash on oil-slicked roads into Brussels on Stage 2.  Stage 3 saw several riders with broken bones – Tyler Farrar and Robert Gesink among them – suffer over the cobblestones of Northern France.  Stage 4 saw Petacchi further beat the Cavencanhestilldoitdish's ego into the tarmac before Stage 5 saw a triumphant Cavenyeshecandish prove that he still can win a gallop, even under pressure.
Stage 6 was much of the same story as Stage 5, except one important difference: first loser of the stage went to a man with a broken wrist. A pro sprinter once told me, "Sprinting is easy.  You just try to break your handlebars."  Seems like that might be a trifle dodgey with a busted wrist.  Stage 7 saw the GC contenders watch each other as Sylvan Chavenel snuck off with a Maillot Juane that he would have normally have held throughout the first week, had he not been touched by the Seven Eyed Spider Monkey Devil on Stage 3.
Stage 8 had Grimpeur the Younger take a small psychological win over Bertie as he dropped him and put a small time gap into him, which is the first time this has happened in recent memory (although, if we wipe away the mind-cobwebs set in by all the ale we drink, we recall that Contador won the Giro by only a small margin and the Vuelta only by aggregate time bonuses awarded at stage finishes; perhaps he's not the dominant figure we portray and curse him to be.)  Stage 8 also saw two GC contenders felled by the same crash demonstrate decidedly different reactions to their falls: Cadel Evans took his second Yellow Jersey and Lance Armstrong took his first massive beating in the Tour de France.
And here we jump headlong into armchair quarterbacking.  We give Armstrong a rough ride here at the Velominati. In fact, we generally refer to him as "Pharmstrong".  But, in truth, he has our respect even if we don't appreciate him.  There's no denying that the man can suffer like none other.  He survived cancer to win the Tour de France seven times. Regardless of any drugs he may or may not have taken to do so, he won against what was presumably a level playing field through planning, preparation, and training (and, allegedly, a bribe or two).  In light of that, his most famous quote serves as an inspiration to fans and non-fans alike: "Pain is temporary, quitting is forever."
A lot was made of Armstrong's crashes and the effect they had on his performance that day. Continuing on after a crash is tough, and catching back onto the bunch takes a big effort, but for a man who lives by the above quote, it's what would expect of him.  He hadn't suffered any injuries other than some road rash, but the fight had gone out of him, and he dropped away from the leaders.  As the day wore on, the Man with the Hammer paid him a visit and bopped him on the head, and he fell even farther back. For me, it was deeply disappointing to see him give up; you could sense it in his body language as he gave up and phoned it into the finish, falling thoroughly out of contention.
Much less was made of the fact that Evans had also gone down in one of the crashes with Armstrong.  Despite this, he managed to not only stay with the leaders; he took the Maillot Jaune while nursing a broken elbow. Stage 10 over the Col du Madeliene proved too much and he lost his Golden Fleece, but the man never gave up and he fought into the finish only 8 minutes behind two guys who are definitely not Too Fat to Climb and blew the race apart.
Another Legend performance came from Garmin's David Millar, who has rib and chest injuries in addition to suffering from a fever.  He rode the entire stage alone during what he called one of his worst days ever on a bike.
It was a long ride, nothing to do with a time trial. It was very draining physically and emotionally.  I saw myself out of the Tour de France. But I could not face going back to the hotel and facing my team mates being out of the Tour. I decided to go to the finish, even if it meant finishing hors delais (outside the time limit).
In contrast to Armstrong's performance, to struggle along alone from start to finish over the mountains and in the heat with only injuries and illness along for company requires grinta; I can only imagine how tempting it must have been to climb into the team sag wagon.
But fighting on despite setbacks like Farrar, Gesink, Evans, and Millar demonstrated earns these guys permanent places in our hearts much more than winning races.  These are Giants of the Road indeed.