Reverence: 3M Electrical Tape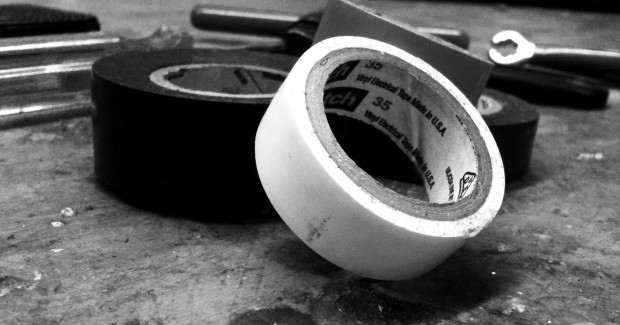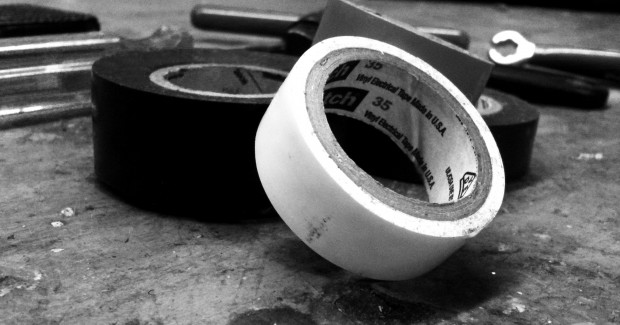 One of the most cherished bits in my toolbox are the four rolls of 3M Electrical Tape: red, green, white, and black. In the past, I've used off-brands, but those appear to use an adhesive that leaves a gooey residue and the tape itself seems to shrink (especially in heat) as it sits in it's place, quietly serving whatever purpose it has been set forth to serve.  While more expensive, it seems the 3M products use a higher quality vinyl that doesn't move around as much once put in place, as well as a better adhesive which leaves behind less of a gooey mess.
Unsurprisingly, each roll of tape serves a different purpose.  The black tape is generally used in repairs or for holding things in place while I work on my bike, such as brake and shift cables during the taping of bars.  It is also absolutely irreplaceable when it comes to quieting the valve stems in my wheels.  I use 80mm valves on my wheels rather than fool about with valve extenders, but the problem with doing that is the stem is just a bit thinner than the hole, and the considerable speed with which my guns propel the bicycle causes them to rattle unpleasantly.  The solution is to wrap a small bit of tape around the stem at just the right spot to pinch it into place allowing for observance of the Principle of Silence.  (I discovered yesterday that Cervelo TestTeam uses the same approach.)
A hopeless aesthete, The colored tape is used mostly for finishing details – those little things that turn a nicely built bike into the bicycle worthy of worship: an extra strip under the finishing tape of the handlebar wrap, or a loop of tape around the seat post to mark it's height.  The color, in these cases, is always very carefully considered, and care is taken in it's application.  For example, I spent several weeks deliberating over whether I should use white tape or red tape around my seat post, finally settling on white.  Presently, I'm trying to decide if I should use a strip of red finishing tape like I'm currently using, or if I should make the jump to a strip of white.  White might be slightly more subtle and classy, but I'm also a trifle concerned that since the bar tape is already white, it might be too understated.
In any case, the decision will not made lightly, and I'll have to update my computer wallpaper and screen savers if I do end up making the switch.
[dmalbum path="/velominati.com/content/Photo Galleries/[email protected]/Reverence Electrical Tape/"/]