Laurent Fignon: 1960 – 2010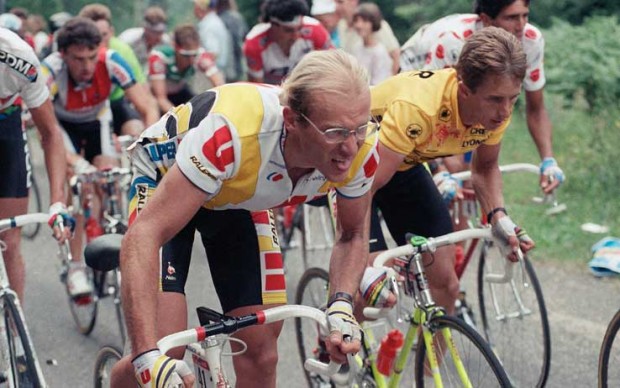 Laurent Fignon passed away today at the age of 50, after suffering from cancer for several years. Fignon was an amazing rider, and a true all-rounder. He won year-round, in stage races, time trials, and one-day classics. His victories include wins in the Giro as well as the Tour, and classics like La Fleche and San Remo. He also recently published a book, "We Were Young and Carefree". I find it more than a little bit ironic that I finally purchased that book last night.
Fignon holds a special place in cycling as the man who twice won Le Tour, and once lost it by the narrowest margin in the race's history. That particular race also holds a special place in my own history with the sport, as this was the first Tour that I was aware of, not to mention that it was won by Greg LeMond – an American and a guy I knew from the local ski racing circuit. As the battle waged on and we followed the race in the newspapers, Fignon's name held a prominent place as the guy who would likely win the race, given the lead he held going into the last Time Trial. Given this early introduction, his name has been with me for almost my entire cycling life.
Fignon also holds another special place in my heart. In 2003, my Velomihottie and I went to France for the month of July to sit in a Gite in Aspet, France for a month, ride, and watch the Tour. Tour coverage there is predictably comprehensive, starting early in the morning and continuing on well into the night. Fignon was the host of one of the pre-race shows, called "Se Fignon le Dit", or, "What Fignon Says" (or something to that effect, I'm not very good at French).
It was awesome. He sported an absolutely terrible haircut and ugly little round sunglasses. Prior to each show, he and his cameraman would engage in a little artsy introduction where the camera would zoom in and out and move about from side to side to create a bit of a disorienting effect. Fignon apparently didn't quite understand that the camera could zoom in and out without moving closer to him physically, so he would peck his head fore and aft, trying the manually create the zoom effect. What resulted was the camera zooming in and out while Le Professeur also moved in and out, creating fishbowl effect that made him look like an Emo trying to poke it's head through a gate.
With that, I speak on behalf of everyone here at the Velominati to send our condolences to his wife, Valerie, and the rest of the cycling community. Today, we lost an icon of our sport. Rest in Peace, Professeur.
Update: photos from L'Equipe.
[dmalbum path="/velominati.com/content/Photo Galleries/[email protected]/Fignon Retrospective/"/]