Merry Festum Prophetae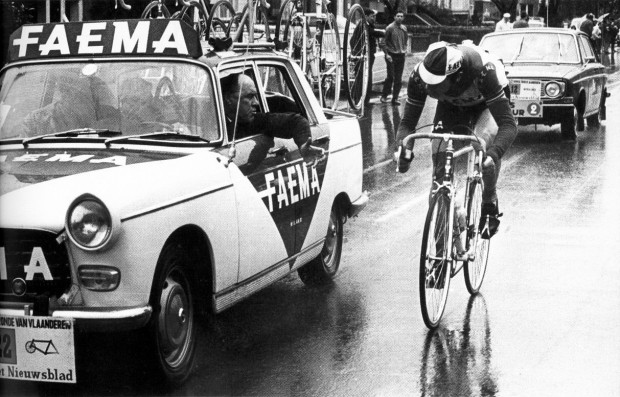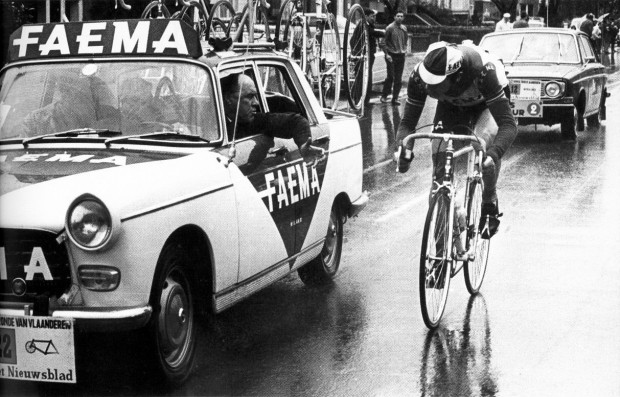 This photo is perhaps the greatest of all time; it shows The Prophet riding in the 1969 Ronde van Vlaanderen, kit and machine perfect. Rule #9 conditions in abundance. He's gone off the front with some 80km left to race, which predictably sent his directeur into a rage. Ordered to return to the bunch, Merckx calmly suggested he go screw himself. It would be a dishonor to sit up and wait for the bunch when there was still strength in his legs. He stayed away to the finish.
Long, kamikaze breakaways were his bread and butter. The idea that he might wait for the last climb or make a shrewd tactical move were completely foreign to him; whether in the leaders jersey or not, if his legs itched, he pushed on the pedals and left the bunch behind – no matter how far it was to the finish and how great his lead already was. That is class. That is panache  That is an example for the conservative modern rider. Classy, stylish, obsessive, meticulous, and devastatingly tough. The Prophet was a unique animal, the perfect combination of what lies at the core of the Velominati and The V. We each endeavor to uphold the standard he laid down during his career and since.
The Keepers would like to join each of you today in celebrating Festum Prophetae, the birth of the greatest Cyclist and our Prophet, Eddy Merckx. It is customary for the Velominati honor this day in a manner befitting him, and we invite you all to share with us how you chose to.
Thanks go to each of you for being a part of this community and helping make this site a worthwhile place to visit and share in our collective love for Cycling. Cycling is much more than a sport; it is a lifestyle and a conduit for us to become better people. Without each of you helping in your way to share in the experience, this place has no meaning.
Vive la Vie Velominatus, and Merry Festum Prophetae, one and all. A-Merckx.
As a special gift on this most festive day, we present the newly anointed Rule #92: