Reverence: DeFeet Wooleators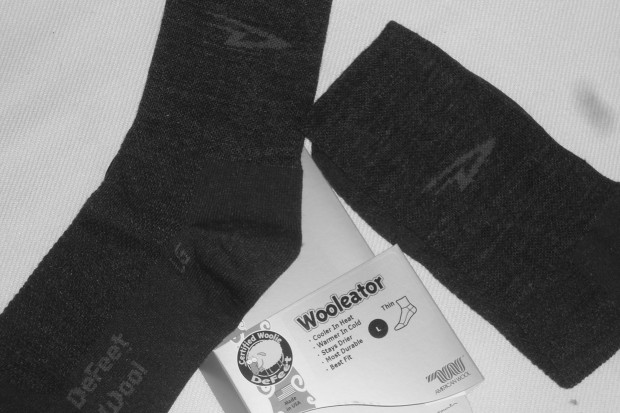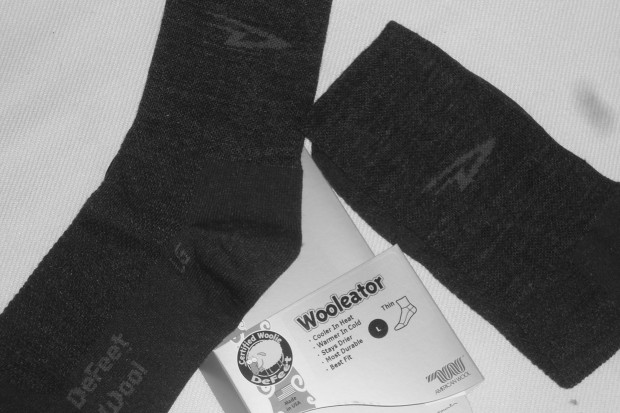 Cyclists love socks. I know I do. I'd make a point of collecting as many pairs as I could from every race, event, shop or rep that I ever happened upon. Some were so good that I still have them, others, well, let's just say they were "re-homed" long before they got the chance to retire gracefully after years of loyal service.
Rule #28 says it right there: DeFeet Wooleators rule! When that was written, I'd only ever worn standard issue polyester or whatever socks. I hadn't considered wool as I thought it might be too hot for Australian conditions. Moving to New Zealand maybe broadened my sock horizons, and I gave the black woolies a try. It was love at first ride. Everything about them was perfect. Yes, even the colour.
I started wearing black socks in about '93 or '94, when I read an article on Travis Brown in Mountain Bike magazine. The article focussed on his style, which included a goatee, pointy sideburns, big earrings and the seemingly abominable black socks. I was a bit of a societal outcast at the time, kinda, playing in a punk band at night, yet taking care of my partner's kids before and after school, while riding all day in between. I liked the rebelliousness of black socks, I already had the earrings, and grew the facial accoutrements accordingly. With no cycling specific black socks around, business socks were the go-to.
When the Pro road peloton started experimenting with black, the main protagonists were Hincapie and Gunderson. Neither of whom I was a fan of, but not because of their footwear. I had to find fault with the only thing I thought they had any credibility for: and at the time, the excessive length of their socks was it. Cyclists didn't wear anything over a 3 or 4 inch cuff, dammit. And the DeFeets were the perfect length.
Now, however, having tried the longer Wooleators a couple of years back, my lower legs feel naked with anything less than 5″ covering them. The mountain biking world had long embraced the long black, and with more and more road Pros rocking the longs, it seemed, well, it seemed right. Even our DeFeet V-socks are most popular in the longer version, even among we Keepers who desperately cling to tradition.
White, yes… long, yes. Black, we're still split. But I'm hoping for a long black wool V-sock in the not-too-distant future. Then all will be right, if not white.
[dmalbum path="/velominati.com/content/Photo Galleries/[email protected]/woolie/"/]
*The use of animal products sits a little uncomfortably with me for ethical reasons, so I looked into the wool sourcing by DeFeet, and am assured that the wool they use is environmentally sustainable and humanely sourced. It's not perfect, (nor am I) but it's a start.